Snowmobiling in Lake Tahoe
Snowmobiling through the woods has a knack for making the wilderness feel as it should. There's no lift lines or snack bars; it's just still, snowy and endless. Poetic as it all may be, none of this overshadows the fact that snowmobiles go fast. Real fast. And let's be honest—aprés-ing your quiet morning by the fire with a punch of adrenaline is never a bad way to vacation. So, it's settled. You want to go snowmobiling in Lake Tahoe. Now you just need to know where you can do it.
Snowmobiling in South Lake Tahoe
Snowmobile by day, steakhouse by night? South Lake Tahoe has truly mastered the balance of outdoor recreation and modern comfort. Here, an afternoon cruise along a snowy ridge and sunset dinner reservations go hand-in-hand.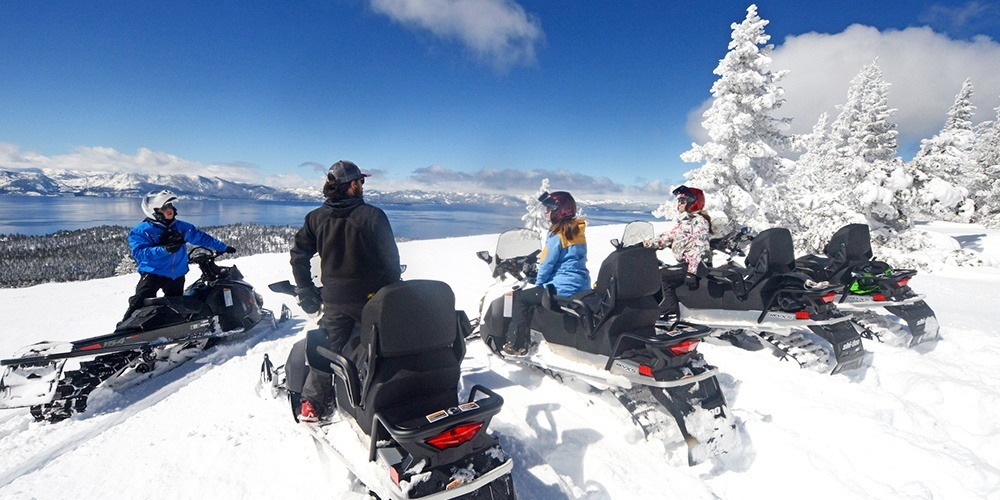 A favorite for snowmobile tours in South Lake Tahoe, Zephyr Cove Resort offers both a beginner-friendly tour and an advanced, backcountry ride. The beginner tour is, well, kinda perfect. Families, couples and groups of friends looking for a low-key ride will get everything they're looking for and more.
A mellow cruise through the woods leads you to a ridge overlooking the entire Lake Tahoe basin. You'll feel on top of the world—and at 9,000 feet elevation, you almost will be. Pause for photos and to maybe shed a tear or two (it really is that beautiful) before winding back down the mountain. Along the way, your helpful, local guide will make sure you're warm, well looked after, and learning all about Tahoe's native landscape.
Tours meet at Zephyr Cove, an easy journey from anywhere in South Lake Tahoe. If you didn't pack ski clothes, they offer affordable rentals at the shop.
If backcountry trails get you more excited than lake views, opt for a snowmobile tour with Lake Tahoe Adventures. Tours depart from their office in Meyers and head south to Hope Valley. Here, groomed backcountry trails loop and wind across meadows, peaks and valleys offering a taste of the area's most pristine mountain landscapes.
Lake Tahoe Adventures offers two snowmobile tour options, with the Ultimate Snowmobile Ride catering to more experienced riders with off-trail powder chasing and smaller groups. The Summit Tour promises a more mellow ride with equally epic sights.
While it's tough to beat lake views, Hope Valley can give you a true taste of the Sierras. It's a bit of a no-so-secret secret that it's the place to score epic outdoor adventures.
Okay, okay let's take a step back. If you're short on time or simply not ready to weave through the Aspens, Tahoe Snowmobiles' circle track is your dream. Follow the mild, groomed track 'round and 'round for a taste of all that horsepower in a user-friendly setting.
You won't get the views or that wilderness-being-wild feeling, but there's still plenty to love about this snowmobiling option. Re: it's walking distance from the stateline, available in 30 minute sessions and there's a fun sledding hill on the same lot. In other words, it's the ultimate family-friendly snow day activity.
Book a 30-minute snowmobile ride with Tahoe Snowmobiles! A 5-minute walk from the Stateline casinos in South Lake Tahoe, their groomed track is the perfect place to get a taste of the action.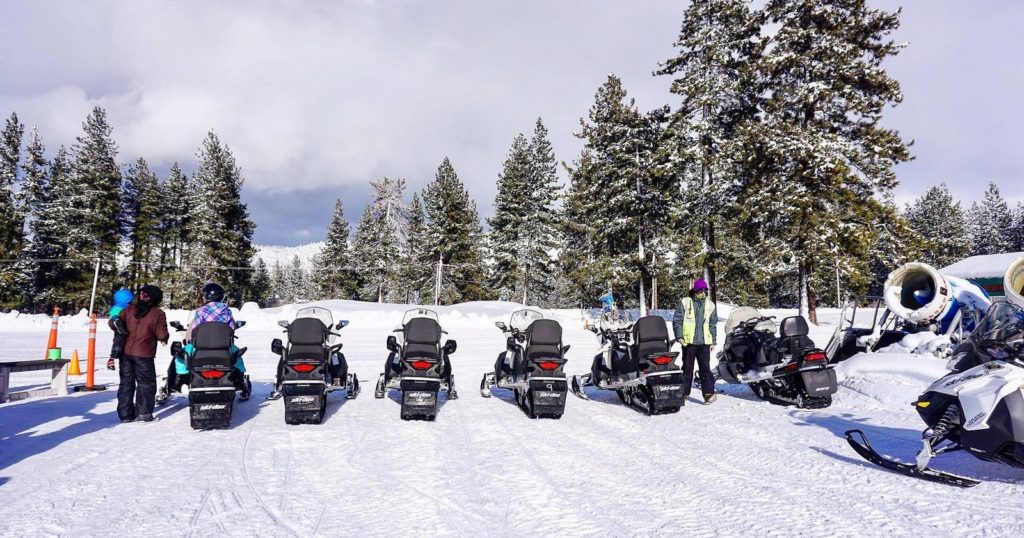 North Tahoe Snowmobiling
Ever wonder if the views from the north shore or south shore are better? Guess you're just going to have to book a snowmobile tour in each of 'em. We're a little jealous.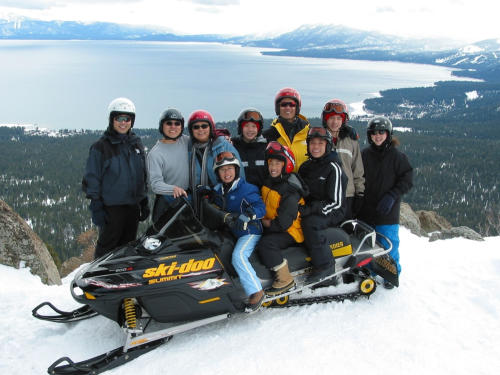 Staying on Tahoe's north shore? Book a tour with Lake Tahoe Snowmobiling for unique lake views and groomed trails through the National Forest. Explore the area around North Lake Tahoe's favorite ski resorts, like Squaw, Northstar and Alpine, stopping for gorgeous lake views at 9,000 feet.
Lake Tahoe Snowmobiling offers just one, all skill-levels, 2-hour tour along Brockway Summit. The tour starts just a few miles north of Tahoe Vista and Kings Beach where your experienced guide teaches you the basics before heading up the mountain. With more than 40 years in the business, these guys truly know north Tahoe's backcountry trails like the back of their hand. They'll have you to incredible views in minutes.
If you're missing anything for the journey, you can rent gear at the main office.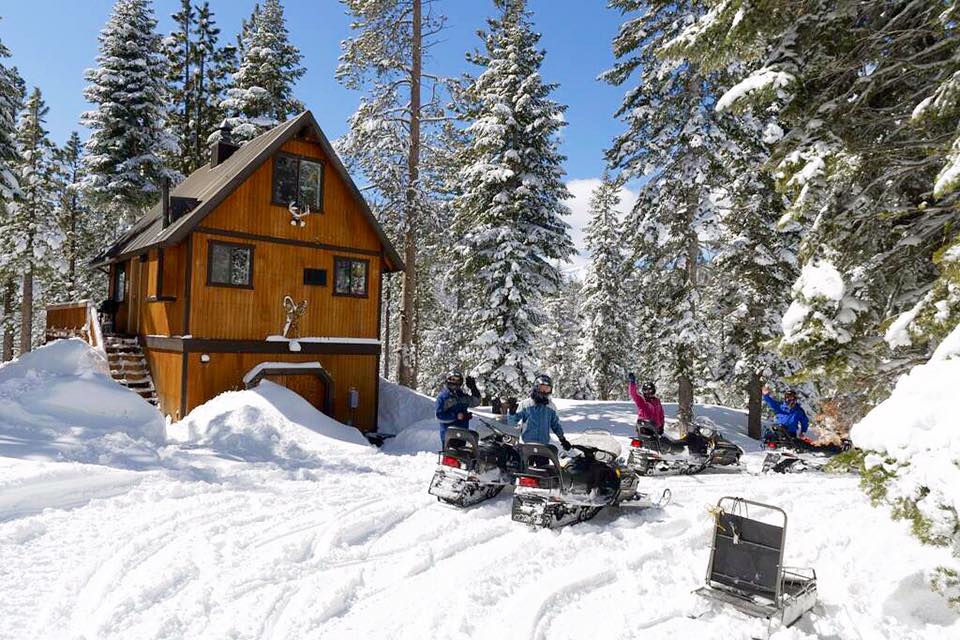 Although technically in Truckee, the snowmobile tours at Coldstream Adventures are a great option for anyone staying in north Lake Tahoe. Located just 15 minutes from Tahoe City and 25 minutes from Kings Beach, it's both a practical option as well as an always appreciated excuse to day trip north.
They offer a 2-hour, all levels backcountry tour that takes you up, down and around Truckee's Coldstream Canyon. Your guide will walk you through the basics before the 2,000 foot climb to the best snow stashes, views and trails. If you're with a group of four or more, upgrade to a private tour for custom itineraries and meetup times.
Somewhere between a dirt bike and a snowmobile, there's the snowbike. A combination of all the things you love about dirt biking—agility, speed, easy steering—and what you love most about snowmobiling (fresh powder, obviously.) A spicy twist on the traditional snowmobile ride, snowbikes are a majorly epic way to get into Tahoe's backcountry.
At the moment there's only one place around Lake Tahoe offering snowbike rentals—and that's Tahoe Snowbike Rental in Truckee. Equipped with brand new Timbersled snowbikes, they offer 2-hour custom guided tours based on your experience. If you're even slightly into dirt bikes, this is pretty much guaranteed to be your new favorite sport.
We promise there's nothing quite like a guided snowbike tour with Tahoe Snowbike Rentals. Fast turns, fresh powder—it's as good as it gets.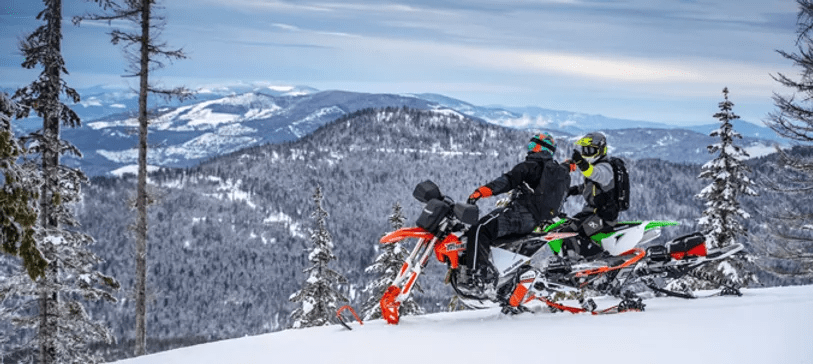 Snowmobile Trail Guide
There's actually not much action for self-guided snowmobile rentals in the area. But if you happen to trailer up your own sleds, you'll want to check out this map of Lake Tahoe's snowmobile trails and areas. It's your best resource for staying safe and out of trouble. Turn to it for a map of Sno-Parks and parking areas, groomed trails and snowmobile boundaries.
---
The whole basin is filled with knowledgable guides, stupid-good views and fun trails that show off the best of the Sierras. All of the above providers will keep you safe and happy. So, as you embark on your Lake Tahoe snowmobiling adventure, all you really need to know is this: bring the balaclava.