Honestly, we're torn. On one hand, we want to hog all the new snow for ourselves. On the other hand—we're #Januburied, baby! And there's plenty of deep snow to go around. Plus, we're pretty sure that the snow gods are karmic, so sharing snow might mean more snow?
In any case, after this level of snow storm, Lake Tahoe is the place to be whether you heard it from us or not! So, let's dig into the basics.
Lake Tahoe Snow Totals: Mid-January 2023
Disclaimer: This info comes from OpenSnow, which is the very best resource (in our opinion) for forecasts, snow reports and general storm stoke. Get the subscription! You won't regret it.
So let's talk about the 2022/23 winter in Lake Tahoe. So far (mid-January) snowfall has been of epic proportions. All this weather started way back in early November, with above average snowfall.
Since then, the storms just kept rolling in—with the crescendo being the last week of December and first half of January! Totals go beyond inches of snow now. We're into feet.
In fact, some ski resorts are reporting more than 13 feet of snow in the month of January alone! Kirkwood has seen a whopping 203 inches of snow at the time of this report. Cheeayyhooo!
As a whole, the Lake Tahoe basin is already at about 80-90% of the yearly average snowfall. And we still have a few months of winter left to go.
Upcoming Weather Forecast: Last Two Weeks Of January
All of that snow is great fro so many things—snowpack, ski resorts, general merry making. Especially since for the next two weeks, the weather is expected to be cold, clear and dry.
Early next week will see temperatures in the high-30s, with blue skies and endless opportunities to take advantage of all the new snow. Hopefully it's a short break. (We'd like to catch up on shoveling our deck.) Then let's get back to it.
A Seriously Snowy Lake Tahoe: Time To Get Outside
Back to the heart of it all. How best to enjoy it? Well, deep snow equals fun snow. Pretty much all of the best winter activities open up when there's tons of storms and snow. But we have a few favorites.
The Family-Friendly Option: Snow Tubing
One caveat to deep snow—it's kind of hard to navigate. There's less parking, you can't really get around without snowshoes, and shoulder deep snow is tough for little kids. Which is why groomed snow tubing is the way to go.
In South Lake Tahoe, places like Tube Tahoe and Tahoe Snowmobiles offer groomed snow tubing runs that simply put, make it easy. The sledding hills are managed by machinery, with a track for you to climb and tube down without dealing with feet and feet of snow.
You still get all the good stuff—views of the mountains, snow play and the thrill of tubing—and none of the trouble. Word of advice; book ahead if you're visiting on the weekend!
Go snow tubing at Tahoe Snowmobiles' Stateline location in South Lake Tahoe. 
The Up-Here-With-Friends Option: Snowmobile Tour
While most things follow the rule of more snow, more better, nowhere does that hold more true than on a snowmobile. Powder is the reason snowmobiles are a sport. It can transform the entire experience from a mellow ride to the ultimate adventure.
Naturally, there are quite a few epic places to snowmobile around the Tahoe basin. Book a snowmobile tour with Zephyr Cove Snowmobiles or Tahoe Sled School to get out into the backcountry where the snow is primo.
Alternatively, if you're just wanting a little taste of the action before going whole hog—you can opt for a groomed cruise with Tahoe Snowmobiles.
In any case, if you're visiting Lake Tahoe with your buds this January (or any time, really) a snowmobile excursion is a must-do.
Book a 30-minute snowmobile ride with Tahoe Snowmobiles! A 5-minute walk from the Stateline casinos in South Lake Tahoe, their groomed track is the perfect place to get a taste of the action.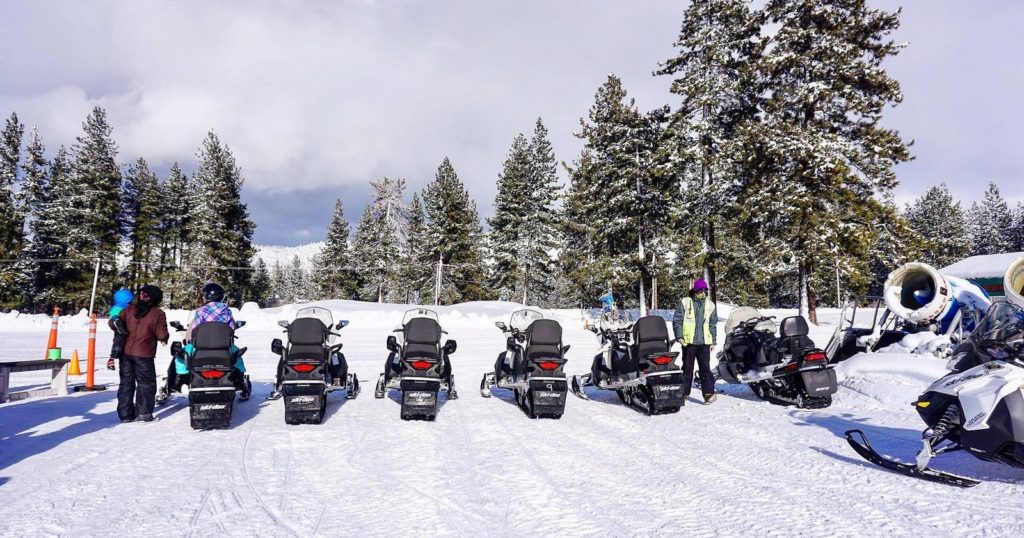 The Never-Fails Option: Ski & Snowboard
We know, this one's a no-brainer. But we promise you—if you've never skied on good snow, you gotta try it. Whether you're the type to stick to the groomers or rip through the trees, powder takes the whole experience from zero to hero.
No ice patches! No catching your edge! A soft place to land! And if you're lucky, a face full of cold smoke! But really, if ever there was a time that the cost of admission at Heavenly Mountain Resort was more than worth it—it's now.
The Adrenaline Junkie Option: Backcountry Snowbike Tour
This one's for the next level powder hounds! A step up from a snowmobile, a snowbike is the ultimate backcountry weapon. Basically a dirt bike, but built for the snow, these guys are super fast, nimble and fun when the conditions are right.
And yes, you guessed it. The conditions right now are right.
You do need a bit of experience on a dirt bike to book this tour with Tahoe Snowbike Rental. But if you are qualified? Life changing.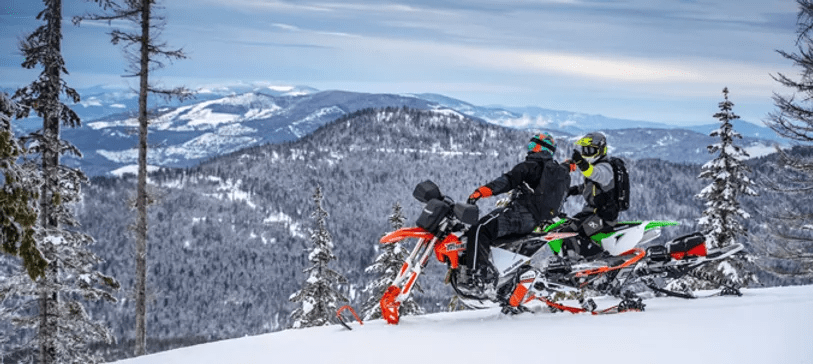 We promise there's nothing quite like a guided snowbike tour with Tahoe Snowbike Rentals. And there's no better time to go then right after a storm!
The Sightseeing Option: M.S. Dixie
Not everyone wants to get out into the snow, and we get that. But whether you're unable or just not into it, you can still enjoy the view. That's what our good and reliable friend the M.S. Dixie is for. When all the other trails, tracks and lifts are out of the question, book a cruise on Lake Tahoe's favorite boat.
She runs on the weekends year-round, with heated indoor seating, dining and bar options. It is hands down our favorite way to soak in all the glory of a snowy Lake Tahoe sans snow gear. You'll cruise out to Emerald Bay, with views of South Lake Tahoe and the surrounding mountains for the whole trip. It's lovely, and a perfect way for anyone to enjoy our little snow globe.
---
Last but not least? Be smart out there. Respect (and thank!) the people out there keeping the roads clear, stores stocked and lifts running. There is a lot of work that goes into making our town ready for visitors after a series of storms. Enjoy!