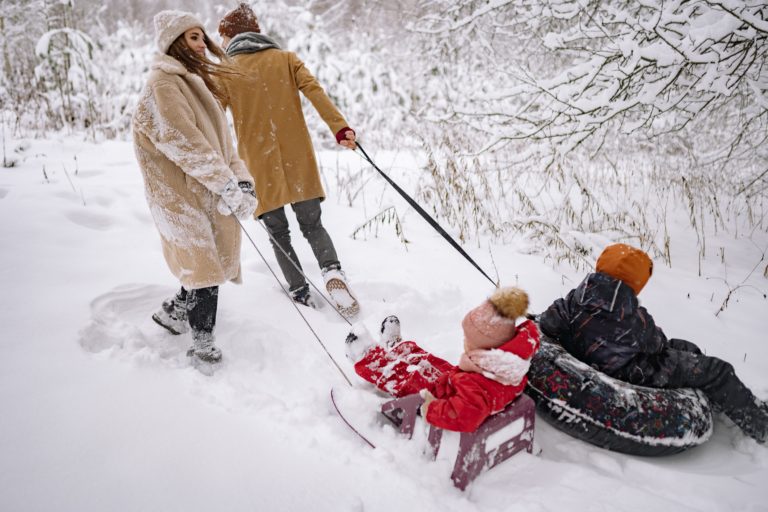 Sledding and snow tubing have a reputation for being child's play—and in some ways, they are. It doesn't take much skill to hop on a sled and point towards the bottom of the hill.
But if you pick the right sledding hill, snow tubing becomes less of a game and more of an action sport. An all-ages, screaming-in-joy, a-little-bit-terrifying adventure. If you're looking for that kind of snow tubing, Lake Tahoe has a few serious gems.
South Lake Tahoe Sledding & Snow Tubing
Apart from all the snow covered forest land just begging for some DIY sledding, South Lake is home to more than a few epic, machine groomed sledding runs. Head to these tubing hills to enjoy easy, fast and fun sledding—or venture out on your own for an old fashioned good time.
Free sledding hint: Head past Camp Richardson and turn left into the Fallen Leaf Lake campground entrance. It's South Lake Tahoe's favorite free sledding and tubing spot!
A South Lake Tahoe sledding classic, Adventure Mountain is located at the top of Echo Summit making it one of the area's highest altitude sledding hills. Read: more snow, better views.
We like that Adventure Mountain offers helmet rentals alongside access to their snow tubing and snow play area. That's the kind of intensity we like to see. Groomed daily, with epic tubing lanes that'll have the entire family giggling, we've got nothing but love for Adventure Mountain.
Another perk—it's right off Highway 50, so you can use it as a pitstop on the way into or out of town.
Just down Highway 50, in the town of Meyers, is Tube Tahoe. Another machine groomed tubing hill with several long runs and a snow play area, Tube Tahoe is another top-notch option for some simple winter fun.
Golf course by summer, tubing hill by winter, Tube Tahoe has a spacious parking lot, views of Mt. Tallac and is conveniently located next to a grocery store. Refuel with snacks after your 1.5 hour session, then head back into South Lake Tahoe—just a 10 minute drive away. Totally tubular.
Go snow tubing at Tahoe Snowmobiles' Stateline location in South Lake Tahoe.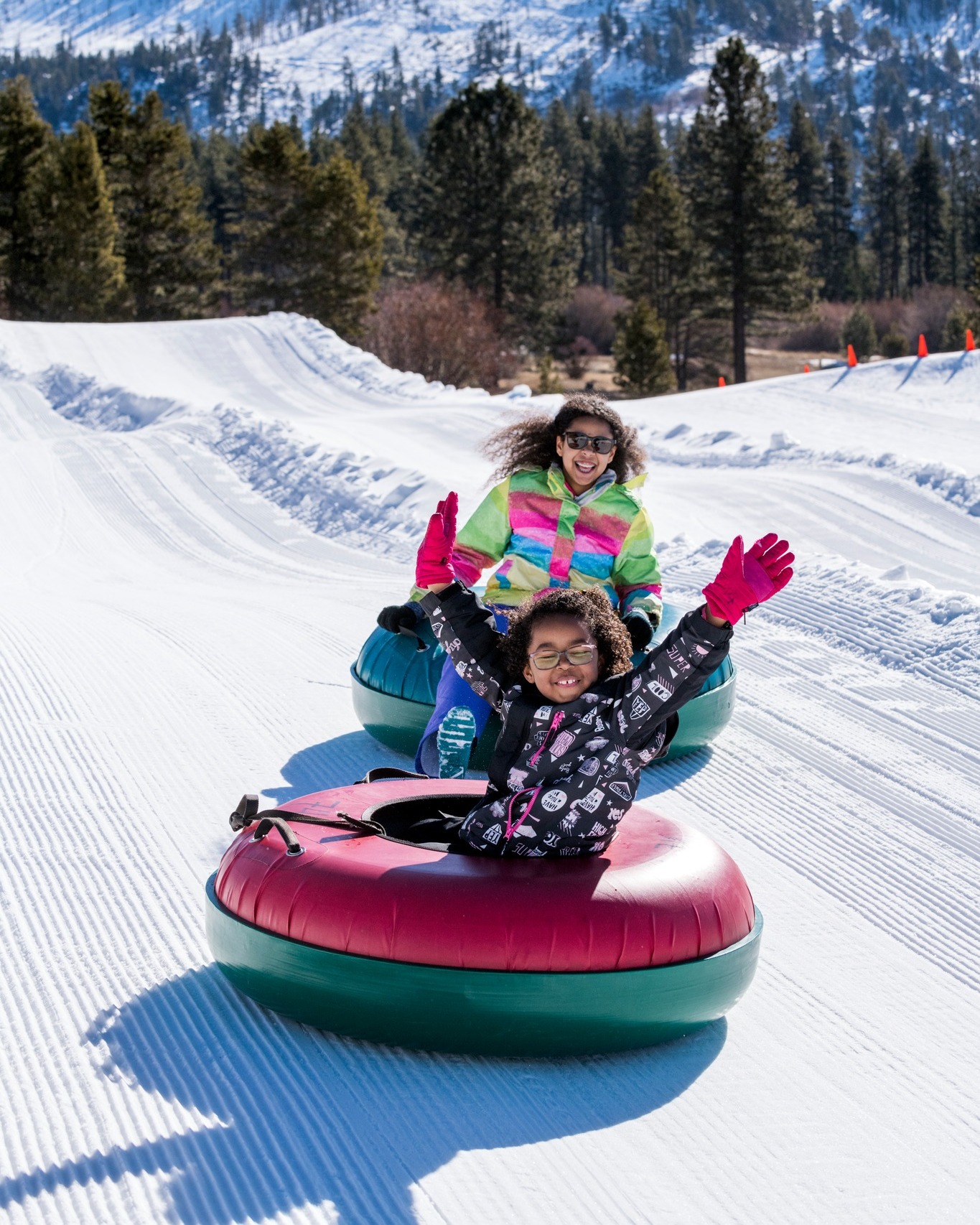 Go snow tubing at Tahoe Snowmobiles' Golf Course location in South Lake Tahoe.
With not one but two convenient South Lake Tahoe locations, Tahoe Snowmobiles is yet another great option to get to tube town. Here, you'll find more groomed tubing lanes with all the bumps and grooves that make sledding so fun.
As the name hints, you can also rent snowmobiles at both of Tahoe Snowmobiles locations. Groomed circle tracks are the perfect snowmobiling intro to new riders or families with kids. It's really the whole package.
Visit them on the Lake Tahoe Golf Course—about a 10-minute drive from the casinos—or at Stateline—a 5-minute walk from all the casino hotels.
North Lake Tahoe Sledding & Snow Tubing
The ever important question of should I visit North Lake Tahoe or South has a million different answers. It changes with every season, occasion, preference and friend group. But when it comes to sledding and tubing—North Lake Tahoe might just take the title. From free sledding areas to groomed tubing runs, there are snow activities are around every corner.
A well-loved, family-friendly resort in Tahoe City, Granlibakken is not just a winter fun favorite, but really an all things Tahoe favorite. From a Tree Top Adventure Park to multi-use trails, this place has it all.
But in winter, all eyes are on the sledding hill, snowplay area and beginner's ski hill. Between the three, you have the fun for the whole family trifecta. Granlibakken has everything you need to enjoy sledding—from rentals to hot cocoa, the gang is all here. (In fact, you're not allowed to bring your own sledding equipment.)
When you're done in the sledding area, head to the ski hill. It's the dream for beginners, and a super easy way to test out the sport without committing to an expensive lift ticket.
Granlibakken even offers a night sledding on select dates. Head there after dark for a laser light, music and glow stick studded sledding sesh complete with hot cocoa and mulled wine.
Another spot to put high on your list is the Northstar Village. A verifiable winter wonderland tucked away at the bottom of the ski resort, the village not only has a tubing area, it has an ice skating rink, outdoor fire pits, shops, bars, restaurants and about as much holiday spirit as the North Pole.
Thus making it the perfect spot to go for a little groomed sledding, winter family fun.
Not a skier, but want a reason to head to Palisades Tahoe for the day? Their Snoventures Activity Zone features a fun sledding hill where you can enjoy snow tubing with your entire family. There's a magic carpet to take you to the top of the hill, plus a nearby lodge with fire pits and warm beverages for when you're done.
Bonus! As an Ikon pass holder, you can enjoy the tubing hill for free every Thursday.
Head west from Truckee along Highway 80 and you'll find what might be Lake Tahoe's very best spot for magical winter fun. Welcome to—Mountain Adventure—home to Tube Town and Planet Kids, where tubing is only the beginning.
Designed to give families a little taste of everything with just one, easy destination, Soda Springs offers ten lanes of groomed tubing, a magic carpet to make the up and down easier, a beginner ski/snowboard hill and even complimentary rental equipment. It's what dreams are made of, and the perfect place to spend a snowy Tahoe day.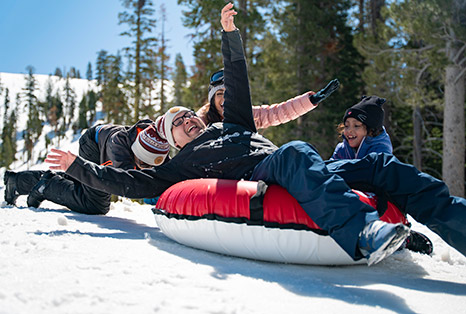 Another option around the Truckee area, Sugarbowl's new tubing hill features 625-foot long tubing lanes, with magic carpets to get ya back to the top. Doing the Sugar Rush Tubing name justice, they're making treats like funnel cakes and hot chocolate available on-site.
If you're looking to keep it local around the lake, visit the Tahoe City Winter Sports Park. A simple and inexpensive alternative to the high adrenaline, sometimes high price tag groomed tubing parks, the Tahoe City Winter Sports area offers basic disc sledding, alongside cross-country ski and snowshoeing trails.
Not only is Spooner Summit sledding free—it's a little bit radical. No, seriously, this natural sledding hill at the corner of Highway 50 and Highway 28 is one of the most high speed sledding spots in Tahoe.
You'll have to bring your own sled, and hold on real tight. But there's free parking at the base, and you're guaranteed to get a little thrill.
Free, again! The Tahoe Meadows area off of the Mount Rose Highway, just above Incline Village. Sitting at over 8,500 base elevation, Tahoe Meadows is a great spot to go when the snow is scarce in other areas. You can park alongside the highway and head over to the enjoy the easy slopes and trails through the meadow.
---
We love sledding, even as adults. And luckily in Tahoe, it's not tough to find a fun spot to go—with the kids or without—and have a good time.