A California winter. It doesn't exactly roll off the tongue, does it? California's reputation tends to lean more endless summer than winter wonderland. But just a few hours drive from those famous golden beaches is the Sierra Nevada.
It's home to the tallest peak in the lower 48 states and some of the country's most incredible backcountry, but still—the jewel in its crown is Lake Tahoe. With a base elevation of 6250′, over 15 ski resorts and an average snowfall of over 200 inches, a Lake Tahoe winter can compete with the best of 'em.
Things To Do: Lake Tahoe Winter Guide
A high-altitude lake ringed with 360° mountain views? I mean—finding things to do in Lake Tahoe in winter isn't the problem. It's deciding which to do first. And Tahoe, that sweet devil, won't make it easy on you.
With over 300 days of sunshine a year, there's a lot of opportunity to get outside. Even (especially?) in the winter. And yes, with world-class ski mountains like Palisades Tahoe (formerly known as Squaw Valley) and Kirkwood Mountain, skiing is high on the list. But it's far from the only thing to do.
To help you unlock your dream Lake Tahoe winter itinerary, we're breaking down the best things to do into categories that fit your mood or the group you're traveling with. Like we said, there's something for everyone.
The Best Low-Key Lake Tahoe Winter Activities
Take a guided snowshoe hike. Ease into winter exploration on a mellow snowshoe hike with an experienced guide. Snowshoeing is like walking in super bulky shoes. We love it because it's a low skill, high reward winter activity—perfect for non skiers that want to get outside and romp through the snow. Check out Tahoe Adventure Company or Tahoe Snowshoe Tours for some of the best snowshoe tours in Tahoe.
Get a view from the top on a Heavenly Gondola ride. From the heart of South Lake Tahoe it's hard to miss Heavenly Mountain. A famed Lake Tahoe ski resort, access to the mountain starts in the Heavenly Village with a 2.4 gondola ride to the top. In the winter, skiers flood the line looking for a ride to the slopes. But sightseers are welcome too, and can ride the enclosed car up to the observation deck for some of the all-time best views of Lake Tahoe.
Cruise out to Emerald Bay on a classic paddle wheeler. While boating on Lake Tahoe in the winter may seem a bit questionable, a scenic (heated!) cruise on the M.S. Dixie might just change your mind. A classic paddle wheeler with dinner cruises and drinks for purchase, the winter edit provides a rare view of Vikingsholm and Emerald Bay State Park sans crowds.
Budget-Friendly Things To Do During A Lake Tahoe Winter
Head down to the beach. A beach covered in snow? A little counterintuitive, yes, but if you forgo the swimwear and trek down in snow boots and a jacket, it's honestly a nice place to be. A very nice place to be. Apart from intimate views of Lake Tahoe, the snow covered sand stretches along the shoreline making a great place to break out in a snowball fight or enjoy an afternoon picnic.
Get friendly with local wildlife at Chickadee Ridge. One of Lake Tahoe's most popular winter treks is along Chickadee Ridge. It's a mellow, 3.5 mile roundtrip hike with a big reward at the end—Mountain Chickadees! These sociable little birds have learned that visitors can mean treats, so they'll land on your outstretched hand or rest on top of your beanie. (This may seem like a bait-and-switch, but please don't bring food for them. The behavior is now learned and they'll happily visit empty hands.)
Explore one of the lively villages at the major ski resorts. In North Lake Tahoe, head to Palisades Tahoe (formerly Squaw Valley) or Northstar; in South Lake Tahoe head to the base of Heavenly. All three are home to some of the best restaurants, shops & family-friendly activities in all of the Lake Tahoe area. From ice skating rinks to ice cream shops, live music to fire pits, the energy is high even if you're just there for an evening stroll.
Learn to ski for cheap at Sierra-At-Tahoe. Newbies, send a thank you card to Sierra-At-Tahoe for this one. If you're totally new to skiing, this is one of the best deals around Lake Tahoe. You'll get the full treatment—rental equipment, a limited lift ticket and a 2-hour lesson—for a fraction of the price. It's truly the ultimate entry level option to ski Lake Tahoe.
Best Winter Activities For Couples In Lake Tahoe
Sip cocktails around a fire pit at the Lone Eagle Grille. Make happy hour even happier with a seat at one of the lakefront fire pits at the Lone Eagle Grille in Incline Village. An elegant restaurant on the Hyatt Regency Lake Tahoe property, this spot is exceedingly romantic, with a classy menu and chic, rustic motif. If the prime seating is taken, worry not. A warm seat indoors next to the towering river rock hearth isn't a bad consolation prize.
Soar above Lake Tahoe's snow dusted peaks on a helicopter tour. There's magic in the snow covered Sierras. And nothing—not skiing or hiking or snowmobiling—puts it in perspective quite like a private flight above Tahoe's famed peaks and hidden lakes with Tahoe Helicopters. With flights leaving from the Lake Tahoe airport, you can score an unforgettable view of Emerald Bay and Heavenly on just a 15-minute flight.
Take to the skies for an unforgettable view of a snow covered Lake Tahoe on a private flight with Tahoe Helicopters.
Soak in a private hot tub at your cabin in the woods. In the great hotel v. vacation rental debate, consider this point one for the house. There's so many cozy, cute cabins around Lake Tahoe with roaring fireplaces and private hot tubs. While you know we love a lobby spa water situation, relaxing in a backyard hot tub with a cup of coffee or glass of wine is the peak of romance on a snowy day. Here's a few cabins we really love.
Glide on a groomed cross country skiing trail. Calming yet athletic, quiet yet exciting, cross country skiing is a winner in the world of winter sports. Head to one of Lake Tahoe's many cross country ski resorts, like Tahoe XC or Kirkwood for groomed trails that make enjoying the backcountry safe and easy. When you finish the trek, warm up with hot cocoa or hot toddies.
Race through the backcountry on a snowbike. Journey over to North Lake Tahoe for a thrilling guided snowbike tour along quiet ridges with Tahoe Snowbike Rental. Race to the top of the mountain for epic lake views or blast through the powder on what is sure to be the highlight of your Lake Tahoe trip.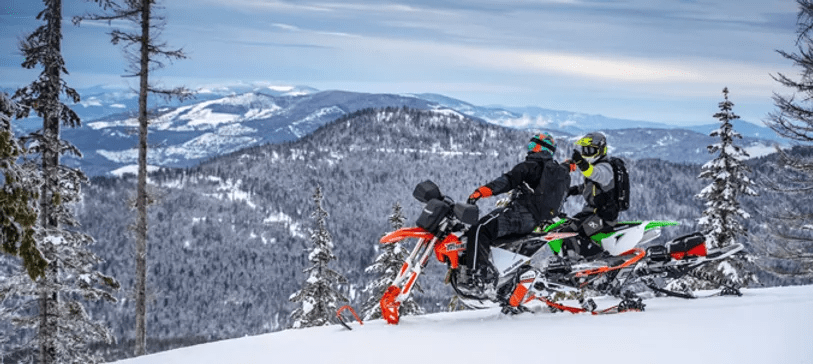 We promise there's nothing quite like a guided snowbike tour with Tahoe Snowbike Rentals. If you are even slightly into dirt bikes, you gotta try it!
Family-Friendly Lake Tahoe Winter Things To Do
Sled, ski & snowshoe—all in one, family-friendly place. For families, there's hardly a better place to do the winter thing than the west shore's Granlibakken Tahoe. You'll have a groomed sledding hill, beginner-only ski slopes and miles of snowshoe and cross country ski trails all at your fingertips. Better yet, they offer rentals for everything. So all you have to do is show up and keep track of the kids.
More sledding, less trekking at Blizzard Mountain. While there's tons of places to sled for free in Lake Tahoe, sometimes you just can't carry your kid's sled up the hill again, you know? When you reach that point, head to Sierra-At-Tahoe's Blizzard Mountain off Highway 50. A snow play oasis, there's plenty of opportunity to leave covered in snow. But most importantly, there are two lifts to get lil' Johnny back on top of the sled run.
Glide beneath the lights at an open-air ice skating rink. The kids will love strapping into skates at one of the festive ice skating rinks around the lake. Visit the rink at the base of Heavenly in South Lake Tahoe, or head to the other side of the lake to the Northstar village. Both offer a cold weather oasis with restaurants and fire pits, hot cocoa stands and shopping just steps from the rink.
Park the kids in a ski lesson and hit the slopes. Whatever Lake Tahoe ski resort you choose will offer ski or snowboard lessons for all ages & experience levels. Your kids will love skipping the lift lines and bouncing around the mountain with people their age, and you'll love chasing powder in the pine trees and enjoying a mid-mountain beer. It's a win-win.
Best Group Activities In Lake Tahoe In Winter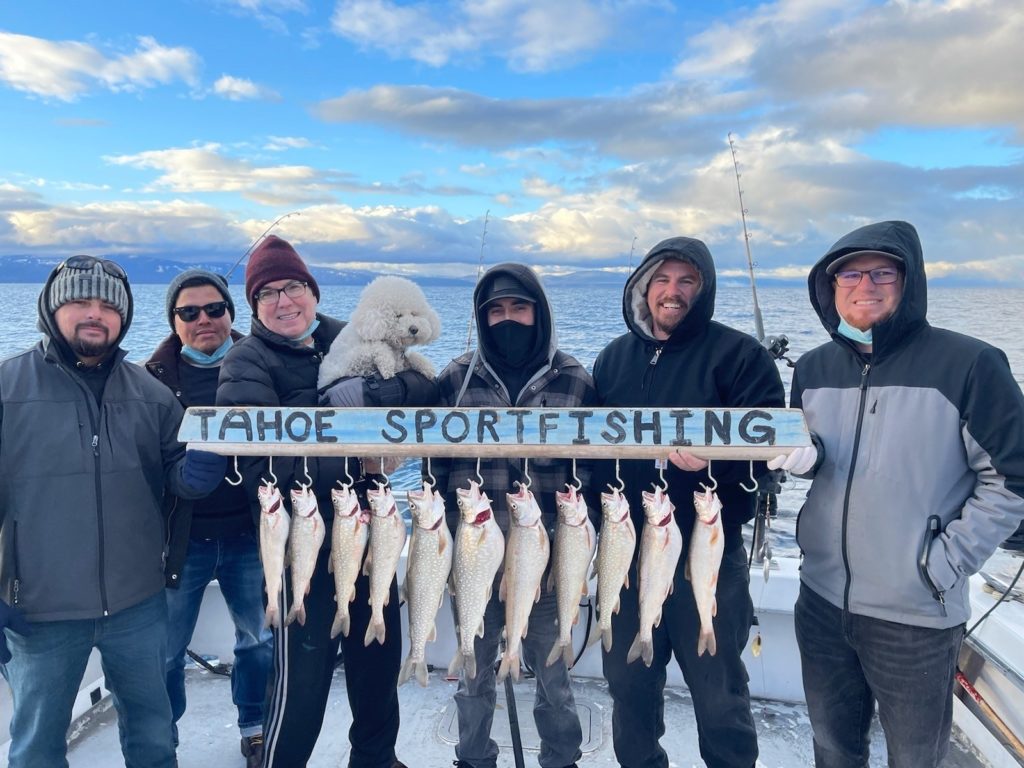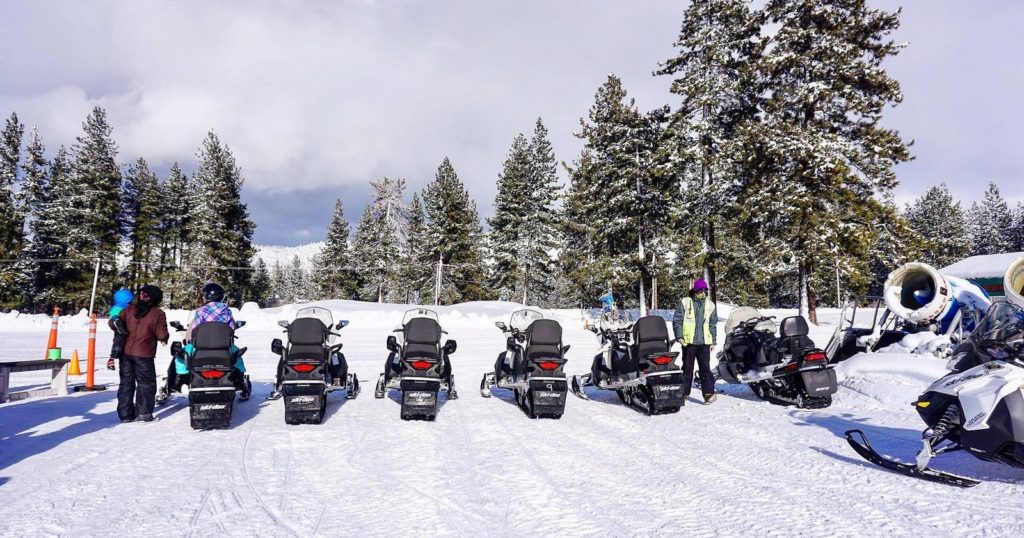 Book a 30-minute snowmobile ride with Tahoe Snowmobiles! A 5-minute walk from the Stateline casinos in South Lake Tahoe, their groomed track is the perfect place to get a taste of the action.
Catch some reel big fish on a 4-hour fishing trip with Tahoe Sportfishing! Pull in limits and spend the day on the water with their friendly crew.
What To Pack For A Trip To Lake Tahoe In Winter
Not to pat ourselves on the back, but your list of things to do in Lake Tahoe in winter is filling up prettttty fast. Between the cross country skiing, snowmobile tour and cruise around Emerald Bay, you've got a lot going on.
But there's one. last. detail. What's going in the bag?
Yes, the success of almost all winter activities depends on how well you pack for them. Besides the usual suspects—waterproof jacket, waterproof boots, beanie and gloves—there's a few smart extras that you will be so happy you brought along. Here's a few of our faves:
---
Alright guys, you are set for the trip of a lifetime. Lake Tahoe in the winter is truly the best destination. All the things you love in the summer (besides swimming, maybe) get even better in the winter with those epic, snow-capped mountain views. Just don't forget the gloves.