Oh Tahoe, you little devil. As if the world-class skiing, hiking and mountain biking weren't enough, you had to add epic sailing to your resume. We're not complaining.
Few things compare to the feeling of gliding across the water, chasing a cool breeze and cotton candy sunset.
Thankfully, there are a lot of ways to get out and take advantage of that high sierra wind—and you don't even have to know the difference between port and starboard to do it.
From sunset sailing tours to sailing lessons, the full Lake Tahoe sailing experience is always at your fingertips.
Sailing Tours & Charters on Lake Tahoe
Navigating the Sierra's capricious afternoon winds takes skill & experience. Soaking in the view while sipping on a cold, locally brewed beer—that just takes a reservation.
Let Tahoe's talented captains and crew take care of you on a sailing charter that's all about chillin' out and enjoying the ride. (And yes, full size sailboats have bathrooms.)
Conveniently operated out of Ski Run Marina in South Lake Tahoe, Sail Tahoe Blue offers public and private sailing cruises from May to October. Beautifully updated with room for up to 18 guests, their 40′ Santa Cruz sailboat, "Blue," makes the perfect vessel for touring the lake.
It may sound like we're exaggerating, but their Sunset Cruise might change your life. Go ahead, spend two blissful hours gliding over the lake, drenched in the golden hour's warm light, sipping local beer & wine and try to tell us otherwise.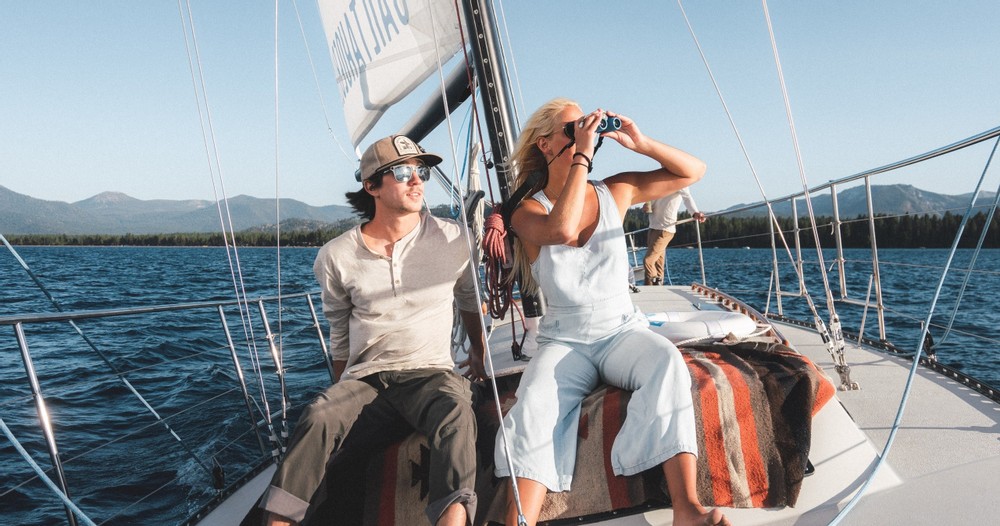 Book with Sail Tahoe Blue! Book a 2-hour sunset sail or afternoon cruise, departing from South Lake Tahoe. Premium beer & wine included. Dates May – September.
Sailing out of Tahoe City on the north shore of the lake is Tahoe Sailing Charters. Home of the iconic Tahoe Cruz, a 50′ Santa Cruz sailboat with a 32 person capacity, these guys sail all summer long, offering public, two-hour cruises from sunup to sunset.
Once built for racing, you're now more likely to spot the Tahoe Cruz meandering along the shoreline, full of happy guests sipping champagne on the deck. Of course, you can also book a private charter with Tahoe Sailing Charters, on either their sailboat or 12-person motor yacht, The Tahoe Dreamer.
If you're with a group of up to 6, consider chartering a private cruise with Pirate Lake Tahoe. Climb aboard in the Tahoe Keys of South Lake Tahoe for a two-hour to half day private sail with a friendly captain and crew. The 41′ Islander Freeport Ketch is equipped with restrooms, a kitchen and plenty of deck space to chill with your family or friends.
Out of Tahoe City in north Lake Tahoe, you can book a private sail charter for groups of up to 6 with Lake Tahoe Sailing. Here, a smaller sailboat means a more hands-on experience—although, you're welcome to sit back and enjoy the ride too. If you're interested in sharpening your skipper skills, these 3-hour private charters offer the perfect balance between student and spectator.
Sailing Lessons on Lake Tahoe
Now let's talk about you salty dogs that dream of earning the Captain title for yourselves. From multi-day programs to individual classes, there's a lot to learn on the lake and plenty of opportunity to do it. There's truly no better setting to learn to sail than the perfect blue waters of Lake Tahoe.
A certified American Sailing Association Training Facility, Sailing Ventures Lake Tahoe in the Tahoe Keys marina is the perfect place to learn to sail. They offer the full spectrum of beginning and intermediate sailing courses, covering everything from reading sailing conditions to navigating coastal waters.
With the sailboat as your classroom, you'll study the winds, sails, knots, navigation and boat systems, making that dream of retiring on a sailboat in Croatia that much closer to reality. (We all have that dream, right?)
Offering a 4-day beginning sailing course out of Tahoe City in north Lake Tahoe is Cruisers Academy. Four days of structured courses offer expert technique, practice in sailing theory and hands-on experience as an important member of the crew for new sailors.
With classroom based theory classes in the morning and active sailing in the afternoon, you'll master the fundamentals in less than a week's time.
---
Sailing on Lake Tahoe is an experience that you just can't get anywhere else. Whether a class or a cruise, you're sure to love the magic of a cool breeze, incredible view and smooth glide across the lake.