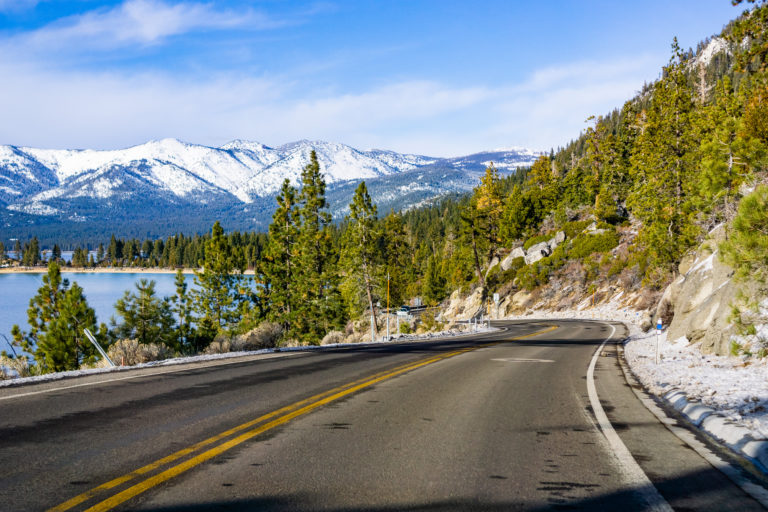 We're excited for you. Road tripping from Lake Tahoe to San Francisco or vice-versa is a fun trip, and there's tons to see in the area. If you go direct, you can be from San Francisco to Lake Tahoe in just over three hours. We love that for sprint missions and weekend getaways, but if you want to really get into the goods, you can sprinkle your route with fun California destinations.
(Also, keep in mind—the drive times listed here are without traffic or stops. We suggest splitting up the drive over a few days' time and staying in a destination or two along the way.)
San Francisco to Tahoe City | Stops in Tomales Bay, Napa, Sacramento & Truckee | 6 hours
California is a very special place, and a lot of what makes it so fits right here into this little San Francisco to Lake Tahoe road trip route. You get a taste of the rugged north coast, the world-renowned Napa Valley, the agricultural heartland and of course, the gem of it all—gorgeous Lake Tahoe.
In other words, this is one of our favorite California road trips, period.
San Francisco: The Embarcadero
It all begins in San Francisco, where you'll weave through the northern end of the city. Enjoy this side of the bay with a crab sandwich at Fisherman's Wharf and a tour of Alcatraz. Cruise past Crissy Field, where you can relax with a six-pack of local Fort Point or 21st Amendment beer before heading north.
Looking for other things to do while in the city? Catch a Giant's game, check out the shops in the Haight & Ashbury district, embark on an afternoon sail through the San Francisco Bay or see it a little bit of it all on a guided e-bike tour.
Book a Sunset Sail with Adventure Cat Sailing Charters! Book a 1.5-hour sunset sail departing from Pier 39! Sail beneath the Golden Gate Bridge and see the cityscape from the water.
Tomales Bay
When you're done in the city, you'll leave San Francisco behind via the Golden Gate Bridge. An hour and a half drive will get you to Point Reyes Station, a quaint coastal town positioned at the tip of Tomales Bay. Come hungry—cute cafés and open-air seafood shacks, like the famous Hog Island Oyster Company, offer fresh seafood in an idyllic setting. Top it off with a hike around the Point Reyes National Seashore.
Napa
Turn the wheels east and leave the coast behind for the ever iconic Napa Valley. Encompassed in the Napa Valley are a number of towns—Sonoma, Napa, Yountville, St. Helena—all of which offer a taste of the Napa Valley experience with world-renowned wineries, restaurants and shops.
If you're heading into the town of Napa proper, plan an afternoon touring the downtown. Stop at any of the city's dozens of fantastic wine bars or get a taste of all things Napa at the Oxbow Public Market. (Save a quick lunch for Gott's!)
The area's wineries range from central downtown locations to sprawling estates on the edge of town. Opt for a casual tour with aboard the Napa Valley Wine Trolley or enjoy the best Napa has to offer aboard the Napa Valley Wine Train.
Sacramento
One of California's most underrated destinations also happens to be one of the state's most important. Welcome to Sacramento—state capital, historic heart of the California gold rush, gateway to the Sierra Nevada mountains and agricultural home base.
Families will love the historic Old Sacramento district, where you can find the California State Railroad Museum. Couples will love the city's wide range of local breweries and eateries with views of the American River.
You're just two hours from Lake Tahoe now!
Truckee
Tahoe's cool little sister, when you've made it to Truckee you've basically made it to north Lake Tahoe. But before you cruise down to the lake, tour Truckee's chic little downtown, stop in at the well-loved Dark Horse Coffee for a cup of joe, walk the Truckee River Legacy Trail or dig into some Donner Party history.
We're honestly not opposed to you ending the route here. Truckee has tons of character, is less than 30 minutes from Tahoe City and even less than that to Palisades Tahoe (formerly known as Squaw Valley). Plus, you can chill at the sleepier, smaller version of Lake Tahoe—Donner Lake.
North Lake Tahoe
This route drops you on the north shore of Lake Tahoe, or more specifically—Tahoe City. From there, you'll have easy access to the west shore of the lake, Kings Beach, Incline Village or with a short drive, Reno and South Lake Tahoe.
Once you've made it to the Lake Tahoe area, the list of things to do and see grows! You'll definitely want to invest some time in scoring an epic view of the lake, post up in a local vacation rental or test out one of Tahoe City's tasty restaurants. Welcome to nirvana.
South Lake Tahoe to San Francisco | Stops in Hope Valley, Murphys, Santa Cruz & Half Moon Bay | 7 hours
For this itinerary, we're going to start you out in South Lake Tahoe. Maybe you cruised over here from north Lake Tahoe or maybe you'll want to take this drive plan and reverse it from San Francisco.
Either way, there's some fun stops along the way that are worth the road trip.
Hope Valley
The first stop is just 30 minutes outside of South Lake Tahoe. In fact, Hope Valley is still considered a part of the Lake Tahoe area. (And if we're being honest, it's one of the best areas around Lake Tahoe.)
A sprawling valley surrounded by the Sierra Nevadas, Hope Valley is a recreation paradise. A dreamy setting for summer hikes, fly fishing and camping; winter snowshoeing, snowmobiling and backcountry skiing, it's a must-stop locale for outdoor lovers.
If you only have a minute to spare, stop by the Wylder Hotel for a slice of pie from their general store, or a cold pint at Sorensen's Cafe.
Murphys
Sometimes, the journey is the destination. And in the drive along Highway 88, that's partially true. After leaving Hope Valley, you'll weave west through the mountains along a gorgeous route that'll keep your face pressed to the window.
But, here, the destination is still the destination. Since you'll be touching down in Murphys, the sleepy foothill town filled with quaint bed-and-breakfasts and a long list of local wineries.
Explore nearby towns for a taste of California's gold rush history, hike through ancient redwood forests or simply enjoy the vast collection of wineries and cafés.
Santa Cruz
That's the thing about California—a day that starts in the mountains of Lake Tahoe can end with a sunset over the sea. And no California road trip is truly complete with a visit to the coast.
Santa Cruz, although just about an hour and a half from San Francisco, is the perfect northern California beach town. With dozens of beaches, coastal hotels, epic surf, fresh seafood and unique beachside amusement park, it's the kind of place that has something for everyone.
While you're here, take a surf lesson at Pleasure Point, head out for a sunset sail with Chardonnay Sailing or try one of the area's many breweries. Alternatively, cruise over to nearby Monterey for some of the most epic whale watching on the western coast!
Bring a camera! You'll be getting up close and personal with the amazing sea life of the Monterey Bay on this 2.5-hour afternoon whale watching tour with Discovery Whale Watch!
Half Moon Bay
If you're in a rush, the winding coastal road leading from Santa Cruz to San Francisco isn't the quickest way, but it's definitely the most beautiful. Highway 1 is iconic; and dotted with wild beaches and rustic farms.
On the way to Half Moon Bay, stop at Año Nuevo State Park for an up close look at an Elephant Seal breeding ground or stock up on picnic supplies at one of the local farm stands. When you get there, grab a famous cup of clam chowder at Sam's Chowder House or take a stroll along the ever popular Coastal Trail.
San Francisco: Ocean Beach
Bet you didn't know San Francisco was also home to a legendary stretch of beach. Get familiar with Ocean Beach as you roll in from from Half Moon Bay along Highway 1. This'll drop you on the south/west side of San Francisco—the perfect end to a great road trip.
It's just a few miles, but still a world away from downtown San Francisco. Now's the time to visit local favorites like Golden Gate Park, the excellent Asian eateries of The Outer Sunset, and the cultural melting pot that is the Mission District.
You'll also have easy access to the San Francisco airport from here if the journey is over and it's time to catch a flight home.

San Francisco To Lake Tahoe: Direct Travel Routes
Want something a little more direct for making it to Lake Tahoe from San Francisco?
You really have two main options:
Highway 50 – San Francisco to South Lake Tahoe (South Lake Tahoe, Zephyr Cove, Nevada Beach, Emerald Bay, Heavenly & Kirkwood)
Highway 80 – San Francisco to North Lake Tahoe (Tahoe City, Kings Beach, Incline Village, Homewood, Palisades/Squaw Valley & Sand Harbor)
With either, you'll pass through Sacramento before heading to either the north or south end of the lake. The distance with both is about the same—200 miles.
San Francisco to Lake Tahoe: Travel Tips
Weather: During the ski season, be sure to check for winter storms prior to leaving. Heavy weather can lead to road closures and chain requirements, which can severely impact travel time.
Traffic: There are only a few main highways leading into Lake Tahoe. If you're planning a trip from San Francisco, you're guaranteed to be on one of those roads. Be aware if you're traveling during peak drive times—namely weekends & holidays—as traffic can be insane.
Preparation: If you're coming up in winter, be prepared! Winter driving is a different beast than dry, clear roads and you'll want to have tire chains, 4WD, mud/snow tires or some combination of three. Packing basic supplies, like water and blankets, is smart too.
Pedal your way through the best of San Francisco on an electric bike tour with Dandyhorse SF Bike Tours! Soak in all of the must-visit sights of San Francisco in the best way possible.
---
We may be biased, but we think a Lake Tahoe road trip is a quintessential part of any good California experience. There's a lot going on in this corner of the west coast, but the road from San Francisco to Lake Tahoe can show you a lot of it.
The good news? You're bound to have the best trip no matter what path you take. Breweries and wineries; local farms and epic outdoor activities; coastal cruises and sunsets over the Sierras—it's all just a few hours apart.
So take your time, explore hard and enjoy your visit!