Fresh alpine air, starry nights around the campfire, sips of hot coffee during a sunrise over the lake—there's simply nothing like camping in Lake Tahoe. Generally open from mid-May to mid-October, Lake Tahoe's campgrounds make the perfect home base for exploring all the epic around the basin.
You'll find that there's camping options all around the lake, from North Shore to South, and in typical Tahoe fashion, each has a personality all its own. Discover the best Lake Tahoe camping here; then pack up the tent, ice down the cooler and come explore!
---
South Shore Campgrounds
Despite its reputation as a more metropolitan escape, marked by casinos and mobs of tourists, South Lake Tahoe is a world-class destination for outdoor recreation of all types. Home to some of the lake's best hikes and beaches, bars and restaurants, beaches and marinas, there's truly a bottomless buffet of activity here.
Campgrounds here tend to be larger and more family-oriented. Think showers and camp stores, RV turnarounds and on-site rentals. Snag a place on the south shore if ease and accessibility are an important piece of your camping puzzle.
Fallen Leaf Campground
Located at the base of its namesake lake, Fallen Leaf Campground is a crowd favorite for its close proximity to both Fallen Leaf Lake and the action of South Lake Tahoe. With a total of 206 easily-accessible tent, RV and yurt sites, plus all the standard amenities like flush toilets, fire pits and grills, it's the perfect choice for families looking to enjoy the area.
What we love about this campground in particular, is that you can walk to Fallen Leaf Lake from your site. This means you have the option of fishing, swimming and relaxing lakefront, without having to load up the car and navigate parking. At the same time, you're still close to the Camp Richardson marina plus plenty of restaurants, grocery stores and more.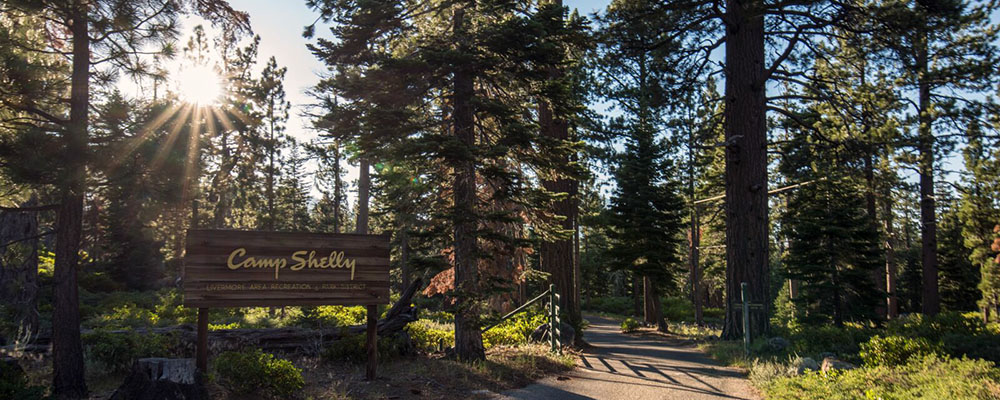 Camp Shelley
With only twenty-five individual campsites, Camp Shelley is a much more intimate campground than some of its nearby neighbors. Even so, sites here are comfortable and well-equipped with parking, fire pits, picnic tables, grills and a central restroom with flush toilets and hot showers. Located just on the other side of Hwy 89, Camp Shelley is within walking distance to the lake.
The closest beach happens to be one of the South Shore's most popular—with wide stretches of sand, boating and fishing all readily available. As an added perk, you'll be one of the lucky few that can walk or bike down to the beach without waiting in traffic or paying for parking.
Campground by The Lake
If you're looking to be in the middle of it all, Campground by the Lake is undoubtedly your spot. Located on Lake Tahoe Blvd, its 50 hookup sites and 120 non-hookup sites sit directly across from the lake, and squarely in-between the area's restaurants, shops and cafés. Perfect for campers that prefer a dose of modernity while they're sleeping under the stars, you'll find both towering pines and rustic sites, as well as a neighboring Safeway, bowling alley, pub and beyond.
Since its operated by the City of Lake Tahoe, all of the city's recreation facilities neighbor the campground. For a small daily fee, you can access the swim complex, gymnasium, indoor basketball courts, ping pong, pickleball and more. Of course, with a location so near the lake, it's just as easy to head to the water and rent kayaks or SUP boards, or simply pack a picnic and relax.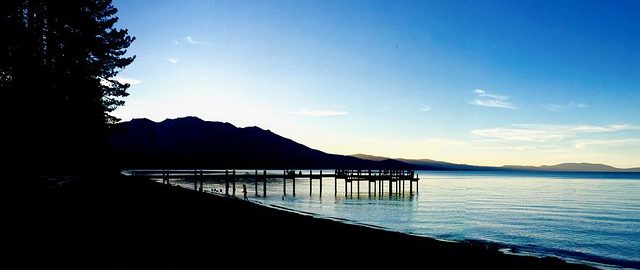 Camp Richardson
A Tahoe landmark all of its own, Camp Richardson boasts 200 tent sites, 100 RV sites, plus cabins and vacation rentals galore. The sites are divided between two excellent campground locations, one on the lakeside of Hwy 89, and the other just a hop across the road.
With a lakefront restaurant, marina, general store, ice cream parlor, mountain sports center and coffee shop (whew!) all located on the property, it's the perfect option for families that want to park the car, set up shop and not worry about traveling around. On the activity front, you'll be just as well cared for—with hiking, biking, horseback riding and all the water-based activities you could dream of at your fingertips.
North Shore Campgrounds
Known for being more low-key than its counterpart across the lake, the north shore has a notably less of a 'busy' feel to it. Contained mostly to a highway that snakes along the lake's edge, there's a more residential vibe here, accounting for less people and consequently, fewer campgrounds.
Nonetheless, the north shore remains a popular spot for its proximity to some of the best ski resorts, biking trails and lakefront views in the area. If you're craving some north Lake Tahoe camping, but can't snag a spot at one of its two campgrounds, many of the west shore options sit just outside the northern limits.

Tahoe State Recreation Area
Located just outside of Tahoe City, Tahoe State Recreation Area is one of the rare camping options for visitors on the north shore of Lake Tahoe. With only 23 sites, it's the kind of spot you'll have to plan ahead for—but with scenic lakefront views and a mellow bike path leading into town, it's well worth it.
Although campsites here are comfortable, with picnic tables, fire pits, food storage containers and restrooms, there's no hookups or dump stations available. Of course, swapping out the RV for a simple home base is easy to do when you're so close to the area's best beaches, restaurants and activities.
Lake Forest
A refreshing take on camping, Lake Forest Campground is a primitive property available on a first-come, first-serve basis. While the amenities are admittedly basic—pump water and portable toilets only—the location and price make this spot a true diamond in the rough.
Located just outside of Tahoe City and operated by the Tahoe City Public Utility District, this modest 20-site campground is no-frills in all the right ways. Close to the lake, close to the town, and close to Mother Nature, there's still a lot to love about this modest camp spot, even (or perhaps, especially) if a dip in the lake is the only shower you can expect.
East Shore Campgrounds
Decorated with some of the area's most picturesque stretches of lakefront, the east shore is relatively sparse when it comes to the traveler and tourist amenities. Even so, it's home to a few of the lake's favorite beaches, including the wildly popular and beautiful Zephyr Cove.
While there's only two campgrounds to choose from on the east shore, the lack of options is made up for with quality. This side of the lake is home to sprawling campgrounds with abundant amenities and large, open beaches that can host your bbqs, volleyball games and sandcastle competitions with ease.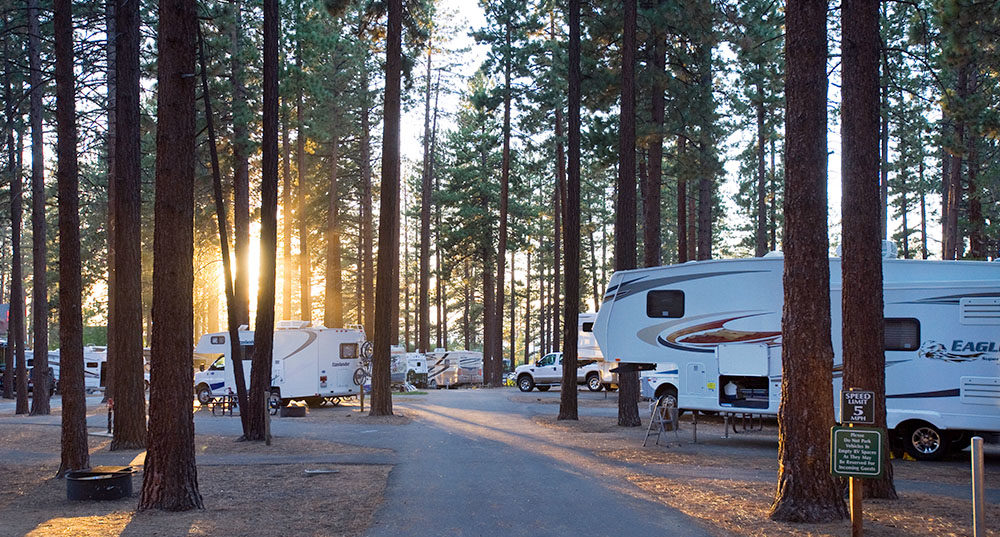 Zephyr Cove Resort
At the southern corner of Lake Tahoe's east shore, you'll find Zephyr Cove Resort and Campground, a magical, full-service campground that's perfect for RV and tent campers alike. With 93 RV sites, 47 walk-in sites and 10 drive-in sites hugging the shoreline at Zephyr Cove, it's about as good as it gets for a family-friendly camping trip.
Although campsites are hidden between boulders and towering pines, there's plenty of modern comforts to be enjoyed. Bathrooms, showers and even cable hookups are available in the campground, while the resort features an on-site restaurant, marina, rentals and more.
Nevada Beach Campground
With dozens of tent and RV sites sitting just steps from the sprawling lakefront, Nevada Beach Campground is a popular choice for summer vacationers. Located on the east shore of the lake, but still just a few short miles from Stateline, this campground has all the basics—fire pits, flush toilets and grills—plus an excellent location for exploring the Lake Tahoe basin.
A popular spot on its own, the neighboring Nevada Beach boasts one of the largest stretches of sand in Lake Tahoe. Stroll from camp down to the beach, or head out on nearby hiking trails to enjoy the mountain landscape. From here, all the best of Tahoe is in your own backyard.
West Shore Campgrounds
Tucked between Tahoe's famed Desolation Wilderness and its sun soaked beaches, the west shore more than deserves its title as the most popular place for camping in the Lake Tahoe area.
Home to a staggering majority of the area's campgrounds, the west shore promises beach days and endless trails, quiet wilderness and quaint shops. You'll be cozied up to not one but two state parks, plus local favorites like Emerald Bay, Vikingsholm, the Rubicon Point Lighthouse and Meeks Bay. In short, there's a lot to delight campers here and it's always worth a stay.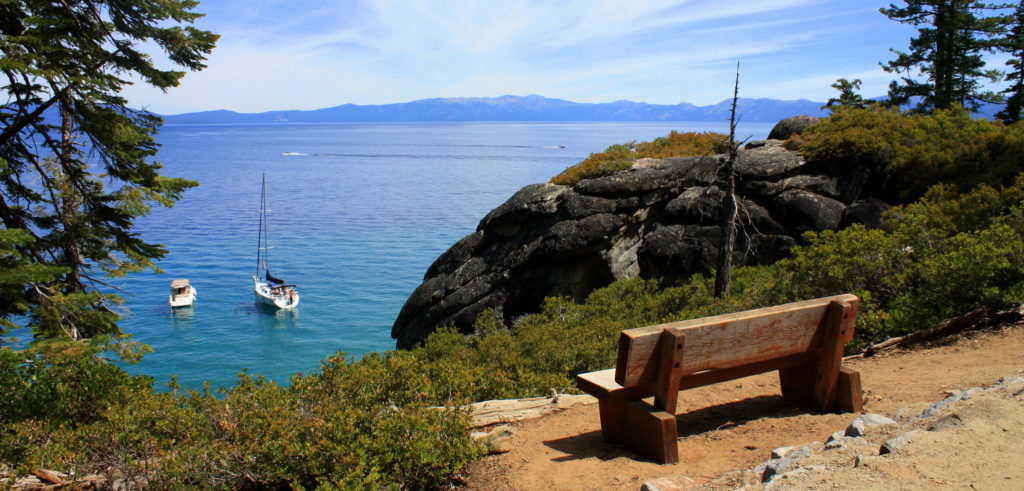 DL Bliss
The gem of the west shore, DL Bliss State Park is a mountain oasis with a little bit of it all–pristine beaches, winding trails, secluded coves and a picture-perfect backdrop of thick, green pines. From your site, you'll be able to walk down to the beach or to several popular trail heads, meaning everything from kayaking to sunrise hikes are a part of the package.
A historic campground that's been a mainstay in Tahoe's recreation world for decades, the sites at DL Bliss are fairly small and equipped with basic amenities only. While there's no hook-ups, campers have access to restrooms and showers, picnic tables, grills and bear-proof storage boxes. But with natural highlights like Lester Beach, Rubicon Trail and Calawee Cove all in your backyard, the amenities hardly matter.
Eagle Point
With a location like this one, it's not hard to understand why Eagle Point Campground sells out six to seven months in advance. Perched at the edge of Emerald Bay, with spectacular views, a private beach and popular trails and sites nearby, a stay here ensures your trip is filled with all the natural wonder you can handle.
A basic campground with small, sometimes unlevel sites, it's best suited to tent camping, although trailers and RVs are welcome in certain sites. There's no hook-ups here, but there are hot pay-showers in newly renovated restrooms. Of course, these details will hardly matter when you're dropping in kayaks or paddleboards, and enjoying unadulterated views of Vikingsholm from your secluded corner of the lake.
(Looking for more Emerald Bay campground options? Check out our dedicated guide to Emerald Bay Camping.)
Meeks Bay
A small, sandy campground just steps from the beach, Meeks Bay deserves a spot at the top of any beach lover's list. Sprawled beside an accessible, family-friendly stretch of sand, you can stash kayaks and paddleboards at your campsite, then walk them down for a midday float or sunset paddle.
Of course, the beach isn't your only option for epic outdoor exploration. Flanked by both DL Bliss and Sugar Pines State Parks, Meeks Bay Campground is just a short distance away from some of the West Shore's most popular hikes.
As for the campground itself, you'll find small, but functional sites equipped with the basics—fire rings, picnic tables, BBQ's and restrooms. Plus, when you run out of coffee or crave a cold beer on draft, you'll find that Tahoma is just a quick drive down the road.
Meeks Bay Resort
Another excellent option for those looking to enjoy the gentle shoreline of Meeks Bay, the campgrounds at Meeks Bay Resort offer well maintained sites in a convenient beachfront location. You'll find tons of accommodation options here, from cabins and house rentals to RV and tent sites.
Despite the resort title, the campground is basic, with common amenities like fire pits, picnic tables and BBQ's, plus restrooms and coin-operated showers. There is, however, an on-site snack bar and general store to help satisfy snack cravings and last-minute s'mores runs on those sunkissed beach days.
One thing to keep in mind—pets are not welcome on the resort property. So if you have a pet that loves to camp, you might want to look elsewhere!
Sugar Pine Point State Park
Sharing the name of the state park it neighbors, Sugar Pine Campground offers incredible access to the west shore's beaches and trails, plus a charming dose of Tahoe history. Spacious and meticulously maintained, the grounds center around the Ehrman Mansion, an early 20th century 'summer home' perched on the lake's crystal blue shores.
You can opt for a paid tour of the mansion, or simply explore the grounds' many outbuildings at your leisure. In addition to the historic property, Sugar Pine State Park features two miles of lake frontage, plus nearly endless trails winding through native pine, aspen and fir trees. Campsites here come with the usual—tables, fire pits and food storage containers—plus access to fresh drinking water, flush toilets, showers and an on-site campground host.
Kaspian
A rustic campground with just nine tent only sites, it could be argued that a stay at Kaspian Campground requires a certain taste. Yes, your site is a flight of stairs away from your car and you'll have to do without a shower—but what you sacrifice in amenities, you gain in authenticity.
With no RVs or trailers, van-lifers or generators, your time at Kaspian Campground will be filled with mementos of camping as it once was. That is, more s'more fueled conversations around the campfire and less distractions. Of course, there's still flush toilets, fire pits and grills, plus a camp host to help with anything you may need.
It's important to note that although the campground itself is quiet, and there's sunny beaches and trails nearby, you'll be near the highway and will need to cross the road to access the lake.
William Kent
Sitting just two miles outside of Tahoe City, William Kent Campground is an excellent choice for travelers that crave a little bit of it all. Nestled in a pine forest across the highway from the lake, you'll be able to access beaches and trails, nature and metropolis with equal ease.
Despite the proximity to town, sites at William Kent make for a quiet retreat. You'll find the usual perks, like picnic tables, fire pits and grills at the campground, plus flush toilets and fresh water, all beneath a halo of trees.
Bring a bike, and pedal the shoreline trail to the area's local beaches, or opt for a morning walk to the neighboring market and café.
---
When it comes to Lake Tahoe camping, it's safe to say that you've got options. Luckily, no matter what beach or trail your campsite cozies up to, there's no wrong way to do it.
North shore or South, tent or RV, hot dog or burger––all paths lead to quiet mornings, cool lake dips and stargazing with s'mores. (Like we said, you just can't go wrong.)