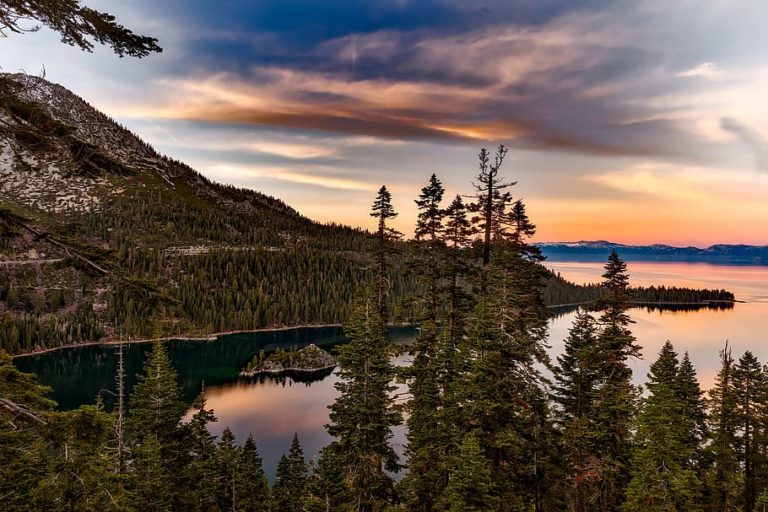 A visit to Emerald Bay State Park is a minimum requirement for any Lake Tahoe trip. As home to some of Tahoe's most iconic views, trails and history, it's categorically a more-is-more type of spot. So while stopping for a quick hike is great—spending the whole weekend enjoying some Emerald Bay camping is even better.
While there's tons of camping around Lake Tahoe, only two are true Emerald Bay campgrounds. (And one's damn close, so we'll count it.) Let's take a look at your Emerald Bay camping options.
Eagle Point Campground in Emerald Bay State Park
45 tent only campsites, 52 car/trailer campsites; 97 campsites total
Coin-operated showers, flush toilets & potable water
No water, sewage or power hookups available
Pets allowed on a 6' leash only in the campground
$25-$45 per night, plus $8 reservation fee
Reservations on ReserveCalifornia.com. (Search for Emerald Bay SP)
Eagle Point Campground is the king of Emerald Bay camping as it happens to be both the largest and the only standard campground in the state park.
Between the upper and lower loop, you'll find 97 total campsites. Only 52 of them can accommodate a trailer or small RV, while the others are reserved for humble ol' tent camping. Tent or trailer, every site has access to clean, updated restrooms, cozy fire pits, spacious bear boxes and a picnic table to enjoy your burgers around.
Trails sprout from every corner of the campground; dusty paths leading to private beaches, secluded viewpoints and even the widely traversed Rubicon Trail. Although this trail hugs the lake's edge all the way to DL Bliss State Park, most campers hike an abbreviated version that ends at Vikingsholm or Eagle Falls.
Upper Eagle Point
The upper loop is home to campsites #1-33. Popular opinion will tell you that the upper loop is the less favorable half of the campground. Sites here are a bit smaller, hugging the mountainside as they wind down towards the bay. You'll also face a longer trek to the beach—one that compared to the lower loop sites, includes an uphill (but very scenic!) hike home.
Regardless, these sites sell like hot cakes. Spend one day fighting for day-use parking near Vikingsholm and you'll realize why. Small site or not, you're still getting incredible access to all of Emerald Bay. The views from these sites ain't too bad either. Every site enjoys flashes of blue peeking through the pine canopies, and some campsites (hey, #29) enjoy unadulterated views of the lake below.
Lower Eagle Point
The lower loop favors a more traditional campground layout with spacious sites sprawling across a (mostly) flat area. Access to Emerald Bay and the rest of Lake Tahoe is much easier from these sites—about a quarter-mile trek.
The overlook trailhead, with its unreal views of Emerald Bay and Lake Tahoe, also starts in the lower loop. But other than that, amenities are the same as you'll find in Upper Eagle Point. If luck's on your side, try to snag a coveted stay at site #77. The privacy, bay views and proximity to the beach far exceed the $45 price tag!
Some really solid advice: Humans aren't alone in loving Eagle Point Campground. Be sure to keep food, beverages & anything scented in the bear box at all times. Actually, it's required. Yellow jackets are also common here. Pack along a yellow jacket trap, and we promise they'll be far less pesky. (While we're on the topic, here's some other camping gadgets we love.)
Emerald Bay Boat-In Camp in Emerald Bay State Park
22 tent only campsites total
Vault toilets, potable water
No showers or hookups
Campground pier and individual buoy
Pets allowed on a 6' leash only in the campground
$35 per night, plus $8 reservation fee
Reservations on ReserveCalifornia.com. (Search for Emerald Bay SP)
A much smaller, more primitive version of its neighbor across the bay, the Emerald Bay Boat-In Camp is the only other official campground in Emerald Bay State Park. Although it sits along the Rubicon Trail, it's squarely a boat-in only campground.
Taking Lake Tahoe camping to the next level, all sites at Emerald Bay Boat-In Camp come with a personal buoy and access to the campground's private dock. While we personally would take a private buoy over a hot shower any day, it's worth noting that the campground amenities pretty much stop there. Bare necessities like vault toilets and potable water await on-land, as well as picnic tables, fire pits and bear boxes. But (soapless) showers must be dutifully taken in the lake.
What the campground lacks in amenities, it makes up for in privacy. Apart from a few day hikers, it'll just be you, fellow campers, a sky full of stars, and flawless views of Emerald Bay and the rest of Lake Tahoe. Oh, and maybe the occasional black bear. (Please secure all food items in the bear box.)
Although all 22 sites are just steps from the lake, only a few come with true lakefront real estate. (Campsites #21 and #22 are especially enviable.) There's a private beach, excellent hiking along the Rubicon Trail towards either Vikingsholm or DL Bliss State Park, and did we mention the privacy?
It's a rare delight to have such a private and secluded accommodation option in one of Lake Tahoe's most popular areas. We adore it.
Some really solid advice: The Emerald Bay Boat-In Camp is a not-so-secret secret. If you're set on spending a few nights here, we recommend either carving out some weekday availability or setting an alarm six months ahead of your preferred date so you can book your site right as availability opens.
And remember—kayaks and paddleboards count as boats too! Check with local retailers for multi-day rentals if you're interested in staying but don't own a ski boat.
Bayview Campground in Emerald Bay State Park
12 campsites total
Vault toilets, no potable water
No showers or hookups
Pets allowed on a 6' leash only in the campground
$17 per night
First-come, first-served (No online booking)
So that's it. That's all there is for Emerald Bay State Park camping…
…except for an ultra-small, first-come, first-served campground sitting just on the other side of Hwy 89. A primitive campground with just 12 sites and no online reservations, Bayview Campground requires a little bit of luck and some fortuitous timing.
If luck (or patience) is a trait of yours, the first-come, first-served status leaves the potential for some amazing last-minute accommodations. Views of Emerald Bay, access to Lake Tahoe's best hiking trails (Maggie's Peak!), and a nightly rate of just $18 are all benefits of snagging a coveted site.
But those are just about the only benefits. Sites are equipped with the basic amenities—fire pits, picnic tables and bear boxes—but there's only vault toilets and there's no potable water.
The campground sits squarely between the Bayview Trailhead and Emerald Bay's Inspiration Point lookout. While convenient for the adventure-minded, it also all but mandates that you become part of the welcome committee for Desolation Wilderness backpackers, day hikers and Emerald Bay onlookers. But, for your service, you'll be able to watch the sunrise over Emerald Bay sans crowds. That makes this one a winner in our book.
—–
It's true that it takes patience; it takes planning; and if you're lucky, it takes paddling to successfully go camping at Lake Tahoe's Emerald Bay. But we're pretty sure you don't need us to tell you that it's worth it.
Now that you up-to-speed on all there is to know—it's time to start packing for that Emerald Bay camping trip! Check out our favorite camping gadgets & gear here. (Interested in other Lake Tahoe camping options? Check out our Lake Tahoe Campground Guide for sleep-under-the-stars sites all around the lake.)