Clear, turquoise water freckled with granite boulders and 72-miles of pine covered shoreline. Lake Tahoe is what summer dreams are made of. And while wading from the beach is certainly nice, is it really a summer in the Sierras if you don't get on the water? (Answer: well, yes, but still, let's talk Lake Tahoe boat rentals!)
Finding a place in Lake Tahoe that offers boat rentals isn't tough—but when it comes to south shore or north shore, jet ski or pontoon boat, captain or drunk uncle? That's where we've got you covered.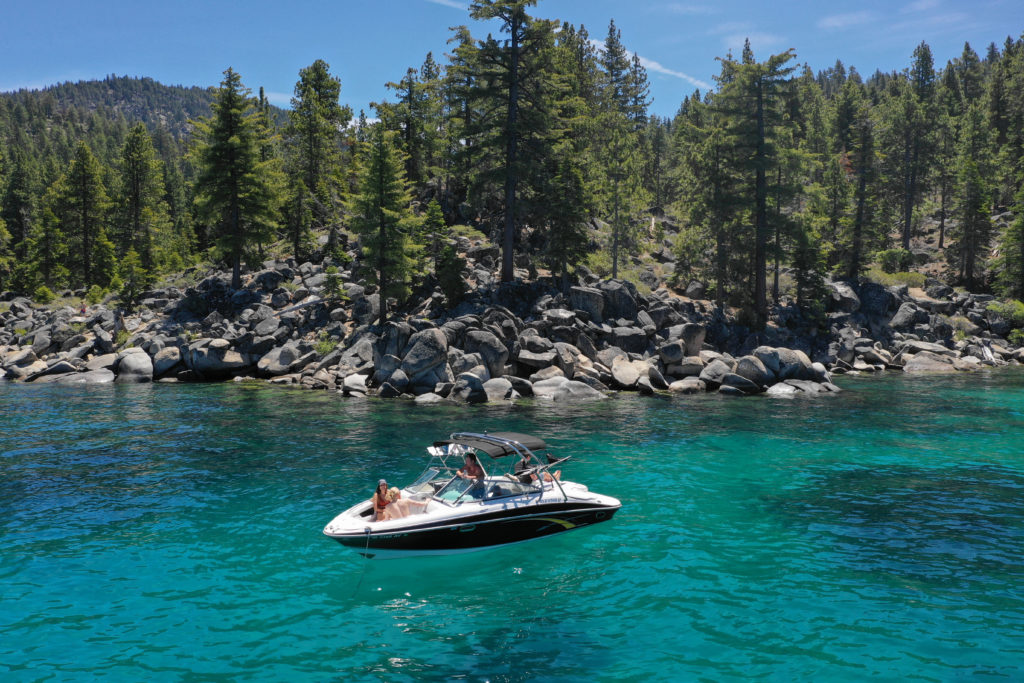 A private captain, a spacious boat, your crew of six—it's the perfect recipe for the ultimate day on Lake Tahoe. Let Boat Tahoe show you the best spots on the lake with a 2, 3 or 4 hour private boat tour!
Types of Lake Tahoe Boat Rentals
If you're not up-to-date on boat jargon, the question of wake surf, powerboat or pontoon might be a little difficult to answer. So let's review what we're working with.
Powerboat Rentals
Remember the story of Goldilocks and the Three Bears? For most people, this one is juuuust right. A Lake Tahoe power boat rental offers a balance between speed and comfort, leisure and play. It's meant to comfortably sit a family or small group of friends, and move between fishing, sunbathing and water skiing with ease.
Some power boats will have deck seating and others will have 'bowrider' seating that allows your crew to spread out between the front and back of the water. (And, more importantly, to enjoy a Titanic moment on the bow.)
It's got the oopmh to make it from Emerald Bay to Sand Harbor, enough space to relax, enough of a wake to tow. It's a classic option for an ultra-classic lake day. But mostly—you're paying for the rumble of the engine as you push down the throttle and a brisk spray of freshwater across your wildly grinning face. You deserve that.
Wake Surf Rentals
Some people like the idea of being on the water, but not in it. Others view it as a big, blue playground. If you're part of the latter, you're a prime candidate for a wakesurf boat rental on Lake Tahoe.
Where a powerboat is designed for leisure and play, a wakesurf boat is all about the play. In the endless pursuit of a monster wake, you sacrifice a little bit of lounging space. You'll also sacrifice some speed. (Remember, this is about the wake and not much else.) But that doesn't really bother you—because you're here to wakeboard, wake surf and water ski your guts out.
Pontoon Boat Rentals
Pontoon boats are like the Golden Retrievers of the lake. They're loved by everyone, a friend to all ages and an unfaltering good time. Ideal for sightseeing, slow touring and tucking into hidden beaches, a pontoon boat rental on Lake Tahoe is a fast track to good living.
Although pontoon boat rentals tend to cost more than your standard power boat, they typically fit more people too. With space for about a dozen or so, they're ideal for larger groups that basically want to chill on a floating patio. Of course, there are pontoon options with 150hp motors, which add light towing and touring to the mix.
P.S. — We've got an entire guide dedicated to pontoon boats and party boats if you know that's your thing!
Party Boat Rentals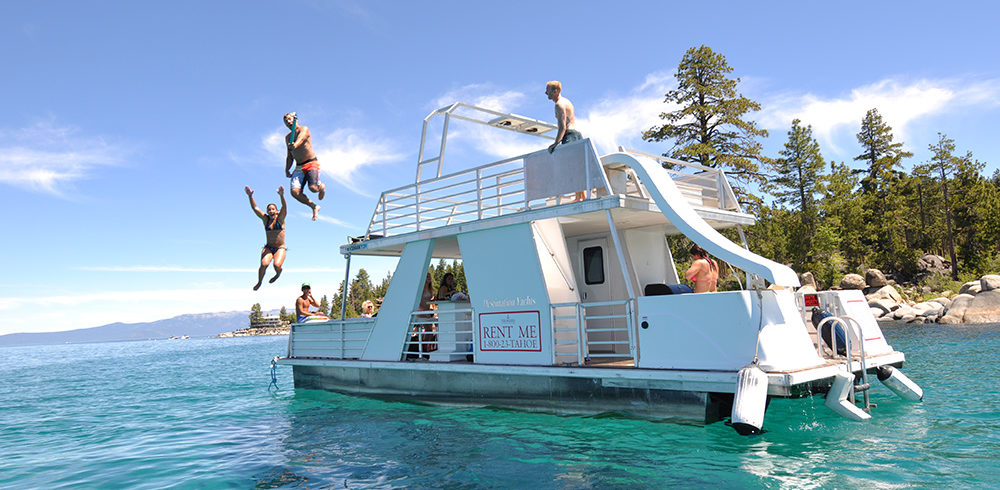 Coming in with the highest level of chill-factor, party boats are made for (responsible) floating festivities. It's a next-level pontoon boat, with a pulse on the summer lake day experience in a way that no one else does.
A Lake Tahoe party boat rental comes with amenities you didn't even know you needed. Waterslides and grills, restrooms and boomin' stereo systems are all fair game. Not all party boats are created equal of course, so if you're dead set on a particular feature, you'll need to do your research first.
Where to Rent A Boat In Lake Tahoe
We only say things we mean, and we mean it when we say this—every inch of Lake Tahoe's shoreline is a pleasure to explore. There's hidden coves with topaz pools, private pockets of beach and bustling marinas stocked with Rum Runners and burgers.
But Lake Tahoe is simply too big to discover every nook and cranny during a half or even full day excursion. We highly recommend you rent your boat on the side of the lake you want to explore. In boating terms, Lake Tahoe is less of a lake and more of a mini ocean. You just can't expect to rent a boat in South Lake Tahoe, and spend the day exploring the north shore.
It'll be a long day, a huge fuel bill, and hours spent commuting rather than chilling, swimming, enjoying. We promise you'll have more fun if you rent on the south shore and stay south, or rent on the north shore and stay north.
South Lake Tahoe Boat Rentals: Where To Rent A Boat
Home to the lake's busiest marinas and beaches, South Lake Tahoe really needs no introduction. A happy knot of hotels and restaurants, bars and casinos, there's plenty of boat rentals in South Lake Tahoe and places to explore once you've set sail.
A quick Google search for "South Lake Tahoe Boat Rentals" will bring up a truly endless amount of options. Here's two well-loved, reliable options that even offer online booking:
Action Watersports: With four marinas on the South Shore—one of them being Camp Richardson—Action Watersports is a super reliable option for south shore boating. Their fleet includes all measures of jet skis, pontoon boats and powerboats, with tons of pricing, size and speed options. Plus, if you decide that the whole driving the boat thing isn't for you, they offer boozy Rum Runner cruises where your only job is to enjoy the view.
Tahoe Sports: More royalty in the South Lake Tahoe boat rental game, Tahoe Sports rents out of Ski Run Marina and the Tahoe Keys. They've got everything. Everything. From premium wake surf boats to the humble pedal boat, these guys offer it all.
Zephyr Cove: Slightly more east shore than south, Zephyr Cove is still more than worthy of a South Lake Tahoe boat rental shout out. They too have a high-quality fleet of boats with wake surf boats, pontoon boats and not to be forgotten; the party boat of all party boats. Toys like water skis and wakeboards can also be rented here—and they offer cruises, lodging, dining and well, everything else imaginable.
South Lake Tahoe Boat Rentals: Where To Visit
Visit Emerald Bay and the iconic Fannette Island with its historic tea house.
Stop in at Camp Richardson's Beacon Grill for a Rum Runner.
Check out the shops or grab a bite to eat at Ski Run Marina.
Anchor outside of Round Hill Pines or Zephyr Cove.
Cruise past hidden coves near the West Shore's Sugar Pine or D.L. Bliss State Park.
North Lake Tahoe Boat Rentals: Where To Rent A Boat
We like to think of North Lake Tahoe as the chill little brother of the south shore. While there's still places to rent a boat in North Lake Tahoe and bustling dockside restaurants, a sleepier tone means your chances of finding a private cove are simply better. We're not picking favorites—but there's some pretty radical coastline here that'd be much harder to access if your boat rental comes from the south.
Much like the south shore, there's a ton of great options for boat rentals in North Lake Tahoe. Here's a few we like, all with online booking:
AWS Incline: A similar namesake, but a different business than our friends on the south shore, Action Water Sports Incline Village has a nice fleet of boats in all the usual flavors. Rent a private pontoon, a yacht with a captain, or ditch the private boat idea altogether and grab a ticket for a sailing or catamaran cruise.
Floater With A Motor: As the cool name might imply, these guys offer a freakin' cool pontoon boat. Although they have only one, they're making the list because this boat is kind of the lake day dream. A double-decker pontoon boat with towing power and a slide, it's basically the perfect option.
SWA Watersports: While these guys don't offer an online booking option, they're making our list anyway. Conveniently operating out of both a west shore and north shore location, SWA Watersports has a great selection of boats with multi-day options. If you have a lakefront rental or mooring option, this is an amazing way to enjoy more of Lake Tahoe. And more Lake Tahoe is always better.
North Lake Tahoe Boat Rentals: Where To Visit
Take a pit-stop of Gar Woods Bar & Grill for a little happy hour refuel.
Steal a peek at the lakeside mansions along Agate Bay.
Claim a boulder near Sand Harbor then watch the crowds from the water.
Cruise the east shore for a private stretch of beach or deep, blue cove.
Strip down for a sunbathe sesh near Secret Cove or Whale Beach.
Lake Tahoe Boat Rentals With Captain & Crew
If you're anything like us, your definition of the perfect lake day involves beer. And probably a lot of it. But hey, no shame in your drinking game when your sunny, Emerald Bay Saturday comes with a legitimate captain and crew. Just imagine—no wondering what side of the channel to enter on; no untangling the anchor; no hiding your Truly from the sheriff (oh yeah, they're out there and a BUI is a real thing).
All you have to do is remember to apply sunscreen and for god's sake, get a taxi home. It's honestly better for everyone, especially because you'll get looped into protected coves and private swimming spots in a way that only a local captain could.
Luckily, our friends at Lake Tahoe Boat Rides & Boat Tahoe understand that boating and beer are like peanut butter and jelly. Boat rentals from either of them come with a licensed captain to keep you safe and show you all the best coves, beaches and hidden spots.
What To Know Before Renting A Boat On Lake Tahoe?
Before you sail out onto the big blue, there's a few things to know about your Lake Tahoe boat rental.
Be cautious of strong winds and currents. The sheer size of Lake Tahoe makes it prone to the same conditions you'd see out at sea! Keep the sometimes challenging conditions in mind as you plan out your day.
The water is cold. Lake Tahoe's surface water temperature hovers around the mid-60s in the summer. While a glacial lake full of snowmelt might be refreshing, clear and beautiful––it can also be dangerous for long swims or young kids.
Do your research! Some rentals charge for fuel and taxes outside of the hourly cost, others come with water toys and rentals included. While all are very, very fun, it's worth researching what's included before opting for the lowest price tag.
Follow the rules. Boat driver under 25? Driving while over the BAC limit? Fishing without a license? With the goal of keeping everyone safe, the Coast Guard actively patrols the lake and will hand out tickets if they catch you doing something you shouldn't. There's plenty of good, clean fun to be had, so learn the rules before you go, and follow 'em!
---
Of course, boat rentals aren't the only way to get out on the lake. There's dozens of options for sunset sails, private dinner charters and happy hour cruises—and all of them are amazing options. But being able to launch your brother-in-law off that rogue wake? Some things are just priceless.