Remember when you were a kid and you got summer break every year and you lived for it? Taking a pontoon boat out on Lake Tahoe is that feeling, all wrapped up into one happy experience.
It just feels like summer should. Sippin' beer on the sun deck; anchoring up for swim breaks; a cool breeze as you cruise past Emerald Bay.
We're pretty sure a pontoon boat rental on Lake Tahoe is as close as you can get to turning back time.
Luckily, there's plenty of places offering pontoon boat rentals around the lake. We've got a few favorites, but honestly, pontoon boat + good company + amazing destination = success.
Appropriately named, the Party Boat from Lake Tahoe Boat Rides is the biggest, baddest, floating party vessel in the Lake Tahoe basin. It's comfortable for up to a whopping 35 people, making it perfect for wedding groups, bachelor parties, family reunions and beyond.
35-person capacity
Captain & Crew included
2 hours: $1200
3 hours: $1800 ($600/hour)
BBQ, bar & bathroom
This party boat is equipped with all the goods, including a sprawling sun deck and comfortable bathroom, but the best amenity by far is that it comes with a captain and crew.
Their charters are the ultimate boating service—you don't have to worry about a sober driver, navigating the lake or getting back to the dock on time. Instead, you'll be able to enjoy the scenery with 34 of your closest family & friends (how do you even know that many people, by the way?) and sipping beer on a boulder while someone else worries about the anchor holding.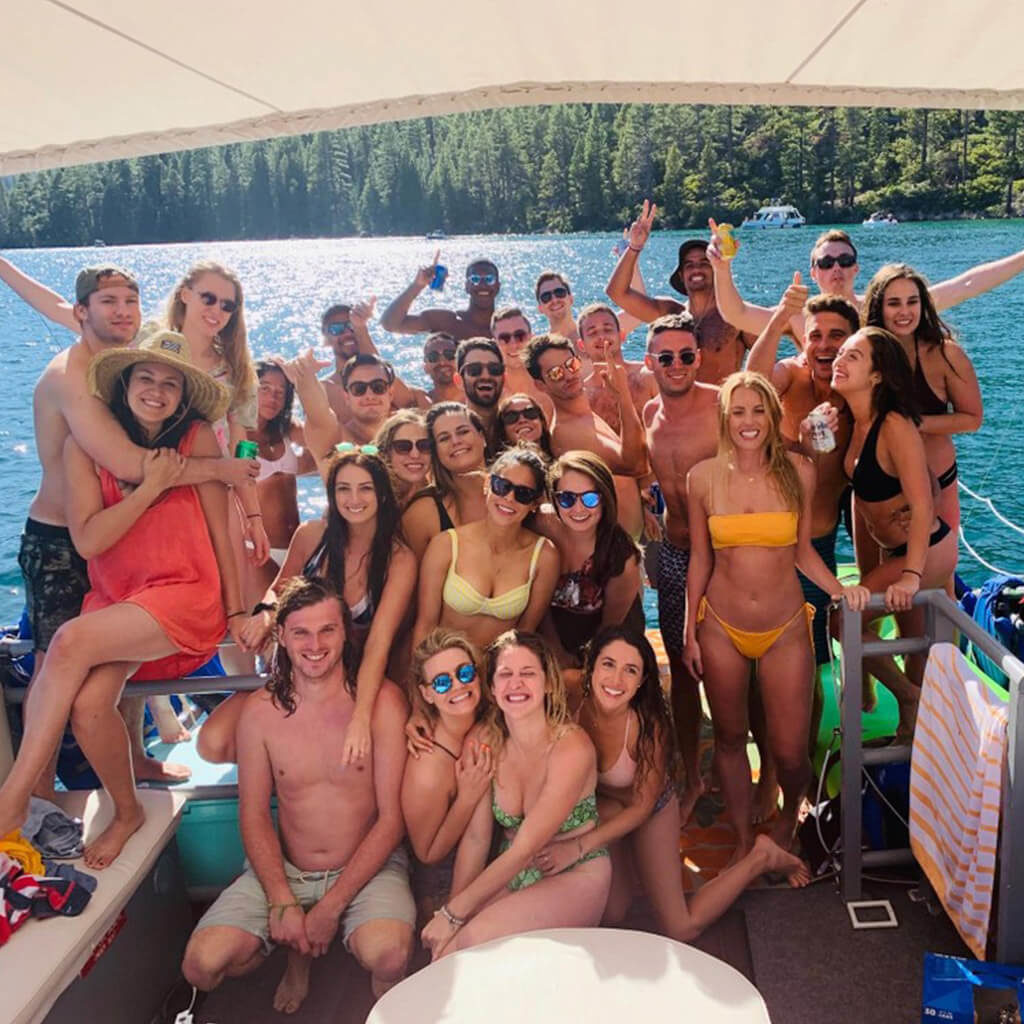 With space for up to 35 of your crew, a day on the "Vivid Dreams" party boat from Tahoe Boat Rides is the ultimate Lake Tahoe experience! Captain, Crew & on-board bathroom all included!
There's pontoon boats, and then there's The Weekender. A 12-person, double decker beast of a boat complete with BBQ, water slide, bar area and a bathroom, it is, quite simply, the boat of all boats. Conveniently located at the Zephyr Cove Marina, this is a great rental option for anyone staying in the South Lake Tahoe area.
12-person capacity
4 hours: $1199
8 hours: $1799 ($224/hour)
Water slide, BBQ, bar & bathroom
Signature of pontoon boats everywhere, The Weekender features spacious, open seating—but its the extras that we love it for. I mean honestly, can you imagine anything better than anchoring up in a secluded cove to grill burgers and sip margaritas in the shaded bar area? We genuinely can't.
While you won't be throwing a huge wake with The Weekender, you still have the convenient option of water toy rentals right at the Zephyr Cove Marina. Add a full day of water wa or tubes to your boat rental for rates as little as $40/day.
Some people just know how to party, and Tahoe Wake Busters is one of 'em.
More specifically, it's their Double Decker Party Barge that knows how to party. Equipped with dual water slides off the top deck, a full sized grill and tons of pool toys and floaties, it's halfway to a good time before you even leave the dock.
12 person capacity
4 hours (with captain): $1350
8 hours (with captain): $2350 ($294/hour)
Propane grill, dual water slides & top deck
Annnnd, for rentals out of South Lake Tahoe, the pontoon high life comes with a safe and knowledgeable captain in case you want to pack that color full of White Claws. (North Lake Tahoe rentals require an additional charge for a captain.)
A 25' foot Bennington Tritoon is also available from their North Lake Tahoe location. A single-level, luxury pontoon with a 13-person capacity, it's also towing capable so you can tube, wakeboard, or hell, even give it a go on the water skis.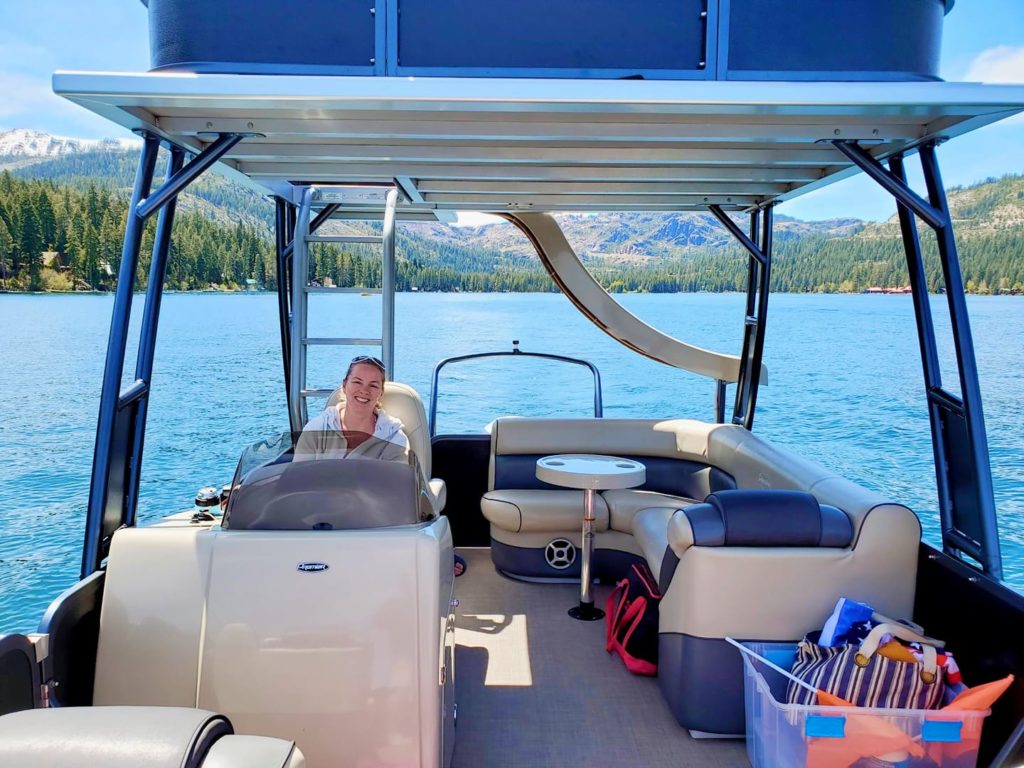 If you're lookin' for pontoon rentals on the north shore of Lake Tahoe, Floater With A Motor is your spot. They've got two boats for rent—a double decker with a water slide and a speedy tritoon with plenty of shade.
12-person capacity
4 hours: $800
8 hours: $1400 ($175/hour)
Waterslide, ski pole & tube rental
We love both of their boats for the hefty 150 horsepower engines. For a pontoon boat, they go pretty fast. If water sports like tubing, water skiing or wakeboarding scream fun to you, then that horsepower is almost as important as the water slide. Plus, the included tube rental, full tank of fuel and ski pole make all that activity even easier to enjoy.
Location wise, their north shore launch spots are ideal for exploring some of Lake Tahoe's most beautiful hideouts and coves.
Meet the new guy on the block—Lake Tahoe Pontoons. A recent addition to the South Lake Tahoe boat rental scene, Lake Tahoe Pontoons is a family run company with just one single boat for rent.
But what they lack in quantity, they most definitely make up for with quality.
12-person capacity
1 hour: $289
3 hours: $850
4 hours: $1100
8 hours: $2300 ($288/hour)
Underwater LED lights, lounge bed & luxury model
Spend the day on a brand new 2021 Bennington pontoon boat complete with a 200 horsepower motor, room for 12-people, fun LED lighting beneath the boat and a luxurious lounge bed for soaking up the sun. Fuel and taxes are included, with 1-hour, 2-hour, full day and half day rentals available.
Despite all this good stuff, what we love most about these guys is that as a new, family-owned business, they add on a personal touch that'll leave you feeling really good about your trip. They're definitely worth checking out for your South Lake Tahoe adventures.
—-
All of these guys booked already? Most of Lake Tahoe's marinas also offer pontoon boat rentals. (Plus jet skis, kayaks, paddleboards and powerboats. Like, really any floatation device you can imagine.)
The marina fleets lean towards more standard model pontoon boats, so you'll be forced to ask yourself some tough questions. Is a dual water slide really necessary? Am I happy with bagged snacks, or do I require a freshly grilled burger on my Emerald Bay sojourn?
To each his own, but honestly—there's no bad boat days in Tahoe.