The best advice we could ever give you—book the boat tour. Seriously, we've done it all and we're here to tell you that a summer day on one of these epic Lake Tahoe cruises is simply unmatched.
The beach days, the backcountry hikes, the kayak excursions; they're epic. But there's just something about a boat ride that can't be touched. You'll get it when you're gliding into Emerald Bay, sipping a chilled IPA on a sunset cruise or anchored in crystal clear waters at your own private cove.
That's when you'll pour one out for the good folks at Epic Lake Tahoe that convinced you, "I need that Lake Tahoe boat tour." Now you just have to choose which one.
---
Sip wine on a sunset sail to Emerald Bay.
Wine and sunsets. There's just something about the combo that works, and trust us, it only gets better when paired with a calm Emerald Bay. Although there's no shortage of sunset cruises to choose from around Lake Tahoe, nothing elevates the moment quite like the quiet drift of a sailboat.
Save the sails billowing in the wind and cool water spraying against the bow, your journey from South Lake Tahoe to Emerald Bay with Sail Tahoe Blue will feel like magic. No motor, no wake—just an easy breeze powering you along.
Find a comfortable spot on the deck, then tip back a glass of cold, local beer or wine as you glide past Mt. Tallac and some of Tahoe's favorite beaches. Once in Emerald Bay, you'll get a close look at the Vikingsholm Castle and the lake's only island before sailing back to Ski Run Marina.
Especially if you've never been sailing before, this is absolutely one of the best Tahoe boat cruise experiences. It really is an unmatched feeling to float through the Sierras off the water & wind alone.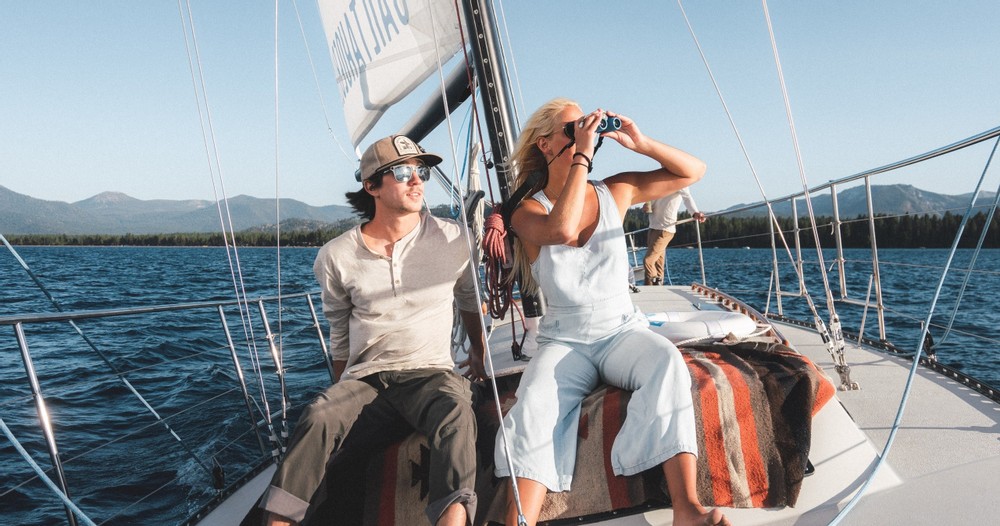 Lock in the most epic sunset of all time on a 2-hour sailing cruise around Lake Tahoe with Sail Tahoe Blue. Premium beer & wine included.
Discover hidden coves on a private boat tour with a captain.
Okay, we know we just waxed poetic about a sunset, happy hour cruise but we've got another absolute gem of a Lake Tahoe boat tour in the lineup. If you want the ultimate summer day—and we're talking the one you think back on for years to come—then a sun-drenched cruise with Boat Tahoe is the way to go.
Pack up the cooler and join your friendly captain on board for one of our favorite boat tours around South Lake Tahoe. Blue skies and the midday sun will transform the lake's infamously cool waters into the perfect spot to cool off.
Ask your captain to you show around the iconic Emerald Bay sites, suit up for water sports, or simply let them show off the lake's hidden gems. Tuck into a secluded cove near D.L. Bliss, where you can jump off boulders or anchor in Zephyr Cove for a picnic on the sun deck.
Best of all, your captain will curate the whole experience. Whether it's breezy, busy or simply a little too boozy, your only job is to kick back and enjoy it.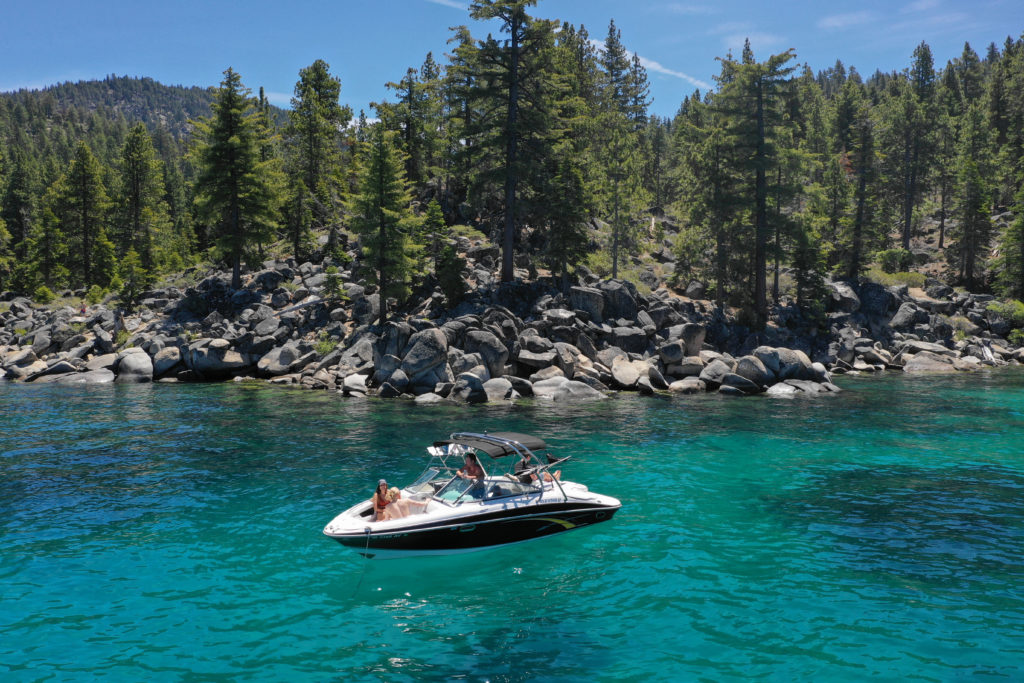 A private captain, a spacious boat, your crew of six—it's the perfect recipe for the ultimate day on Lake Tahoe. Discover the best spots on the lake with a 4-hour private boat charter!
Pair a legendary drink with legendary views.
Having one too many of the Camp Richardson Rum Runners is just one of those South Lake Tahoe must-do's. And while you could always visit The Beacon, we're partial to slurping down that tropical drink on one of everyone's favorite Lake Tahoe cruises.
At just 1.5 hours round-trip, the Rum Runner boat tour out to Emerald Bay is half scenic cruise, half party boat. It's the perfect quick trip—just the right amount of time to buy your friends a round of Rum Runners from the on-boat bar, soak in the views and get back to the marina to chill on the beach.
A great experience for bigger groups or families with kids, these daily tours are one of the easiest (and most fun!) options to get on the water.
Slice into a ribeye dinner cruise beneath the stars.
A year-round classic, sailing from the Zephyr Cove Resort, daytime cruises, dinner cruises and private charters aboard the M.S. Dixie II are always at the top of our list.
But the dinner cruise in particular, with its golden hour departure, full bar and elevated menu transform a scenic boat ride into a can't-miss Lake Tahoe experience.
The M.S. Dixie II is one of the few Lake Tahoe boat tours that runs no matter what the season. The 500-passenger paddle-wheeler can make a smooth ride out of stormy seas, with a heated salon and dining room with live music. In the summer months, steal out to the sun deck to watch the alpenglow light up the mountain skyline.
Family-friendly and excellent for large groups, this iconic ride around Lake Tahoe is well-loved among locals, tourists and everyone in between.
Enjoy the happiest hour during a North Lake Tahoe cruise.
Everything you've seen up until this point has departed from South Lake Tahoe. The Tahoe Gal fixes that. Hands down the best boat cruise from the north side of the lake, this historic paddle-wheeler operates daily tours along the stunning west & north shores of Lake Tahoe.
Tours run daily, with on-board food & beverage available for purchase. Family-friendly options like their morning brunch cruise are always an amazing time, but we're partial to the 1.5 hour happy hour cruise for obvious reasons.
You're going for the views, of course, but the long list of martini cocktails and curated selection of local wines doesn't hurt. Make it a special event by bringing a large group along, or keep it intimate as a date night excursion.
Either way, a happy hour on a boat always trumps a regular ol' restaurant happy hour in our book.
---
This list has the potential to be really long because, well, we're firm believers that these Lake Tahoe cruises are some of the best ways to spend your time and money.
But—let's be honest. Can you imagine anything better than a sunny day spent on a beautiful boat? A cold water plunge? A chilled Rum Runner paired with mountain views? God speed on that booking, folks.
(Rather rent your own boat? We've know a few good pontoon and party boat rentals around the lake too.)