It's the essence of Lake Tahoe—that it's no one thing. A mountain destination with four distinct seasons, it's a ski trip just as often as a beach day; a sandy, lakeside picnic one meal and a white table cloth steakhouse the next.
A camping trip, a bachelor party, a rustic cabin in the woods. There's space for all of them here. But when the moment asks for an elevated stay with all the comforts of home, these Lake Tahoe luxury properties answer the call.
Set in stunning, central locations, stocked with premium amenities and designed for the highest standards of comfort, they set the tone for an unforgettable vacation.
South Lake Tahoe Luxury Properties
Widely recognized as the most bustling town in the basin, Lake Tahoe's south shore is the place you go to be in the middle of it all. Fill your time with both world-class access to mountain biking trails and scenic beaches, as well as live entertainment and an impressive list of restaurants.
The key, then, to luxury on the south shore is a prime location. And no place hits that mark quite as well as the Gondola Vista collection of properties.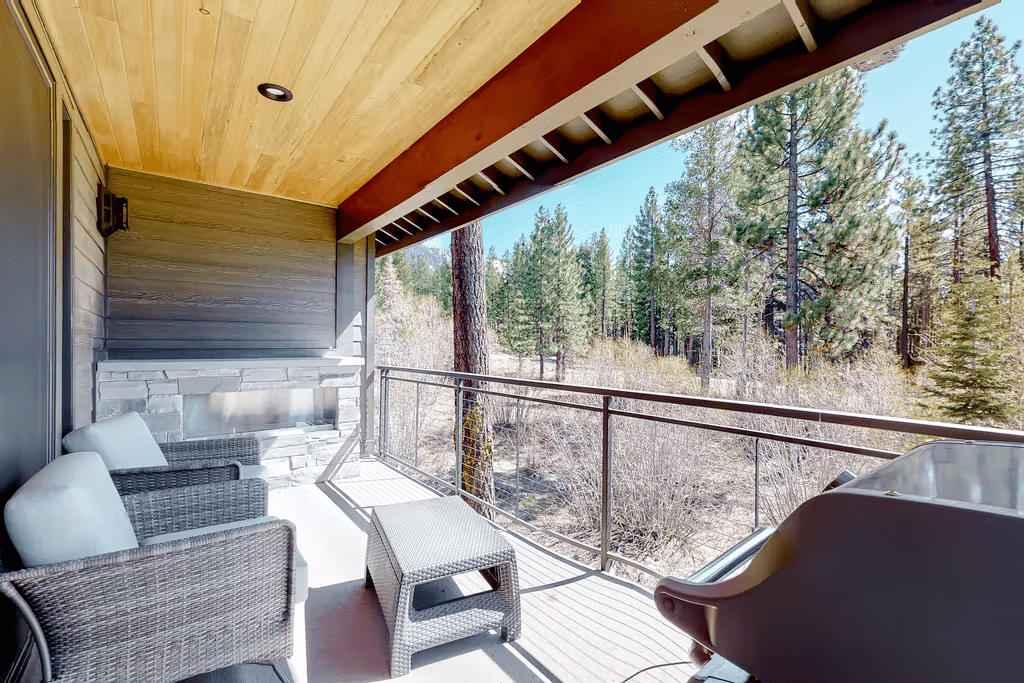 In a quiet corner between Van Sickle Bi-State Park and the Heavenly Village, the Gondola Vista 4, 5 & 6 bedroom townhouses offer both privacy and walkability.
Although surrounded by forest land, with peek-through lake views and private parking, you're still just minutes away from the Heavenly Ski Resort, Nevada casinos, Edgewood Golf Course and more. Enjoy ski-in, ski-out access in the winter and two marinas within less than a mile in the summer.
Upon arrival, you'll find an oasis of modern amenities and exclusive upgrades. The newly built homes feature rustic chic details throughout, from hardwood floors to stone countertops, gas fireplaces indoors and out, and en-suite bathrooms with steam showers and heated floors.
Extras like an electric vehicle charger in the oversized garage, private hot tub, gas grill and full laundry make these Tahoe luxury properties feel a little more like home.
More south shore rentals we love:
West Shore Lake Tahoe Luxury Properties
Home to the basin's largest collection of dramatic lakefront estates, the west shore of Lake Tahoe is a natural choice for luxury vacation rentals.
Spanning from Tahoe City in the north to Rubicon Bay in the south, homes along the west shore are wedged between some of the lake's most beautiful shoreline and the mountains of Desolation Wilderness.
Here, lakefront properties with private docks and nearby beach access are the favored option. Sure, you'll venture out for hiking through D.L. Bliss or a romantic, dockside dinner, but panoramic lake views will be calling you home.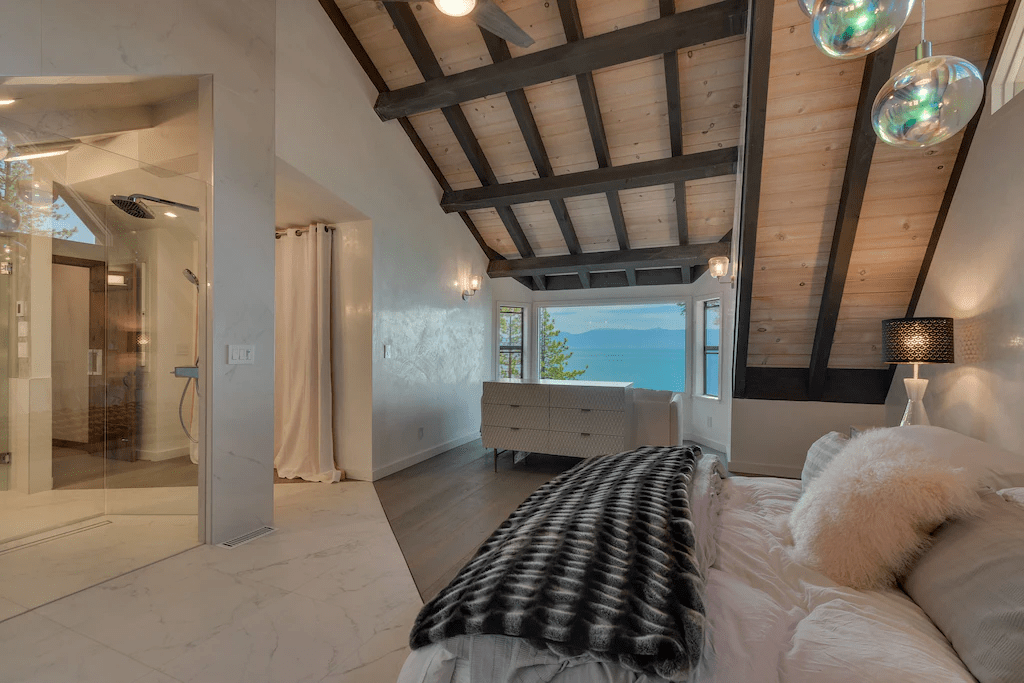 The quintessential Lake Tahoe luxury vacation rental, this lakefront, west shore estate goes big on panoramic views and outdoor living space.
It's not all there is to love, of course. The rustic chic interior, complete with wood burning fireplaces, organic linens, heated bathroom floors and a chef's kitchen almost stand up to the outdoor amenities.
But a lakefront lawn? A private pier? A stretch of beach to launch kayaks and SUPs from? An oversized deck with a fire pit and lounge chairs? That's simply what Lake Tahoe summer vacation dreams are made of.
But in all seriousness, everything here is curated for the perfect experience. The smallest details, from inside to out, make this property the ultimate luxury vacation rental.
Bonus: it's pet-friendly, for well behaved dogs.
More west shore rentals we love:
North Lake Tahoe Luxury Vacation Rentals
Notoriously home to some of the area's most gorgeous properties, Incline Village and the surrounding north Lake Tahoe towns present excellent options for luxury vacation rentals. Ranging from family cabins to stunning, lakefront estates, you won't have to search far to find the perfect option here.
Rentals here are close to ski resorts, like Northstar, Diamond Peak and Palisades Tahoe (formerly known as Squaw Valley) in the winter, and plenty of trails and beaches for the summer months. Dine at Lake Tahoe's top restaurants, visit nearby Truckee or simply enjoy the lakefront estates of Incline Village.
We love a lakefront, we really do. But sometimes, the simple privacy that comes with a half-way-up-the-mountain property lures us in. And that's certainly the case with this gorgeous luxury home perched above Incline Village.
Above the bustle of the town, you'll enjoy more than just quiet and calm—there's panoramic views of Lake Tahoe from practically every window and deck.
This particular home, as any good luxury Lake Tahoe vacation rental should, comes with a long list of amenities that your guests will love.
Relax in the sauna, play a round of pool or enjoy cocktails while watching the sun set over the lake, all while the kids hide out in the game room.
More north shore rentals we love:
---
Looking for more Lake Tahoe vacation rentals? Check here!