Not quite a ski trip, not quite boating weather—what exactly does springtime bring to Lake Tahoe? We're happy to report: only good things. There's magic in the air, a little more green on the ground, and no less than one bajillion things to do in Lake Tahoe in spring.
Here's the deal: spring doesn't always start on time. Sometimes, it arrives in Lake Tahoe in March. Other years, it still feels like winter through April. It all depends the weather. But spring, whenever she arrives, always does us right.
We can thank the Sierra Nevada mountains' wide range of elevations for that. It's like Lake Tahoe has a seasonal mullet. Winter on the top, summer on the bottom. Between the two? Activities of every kind.
1. Follow The Trails On A Waterfall Hike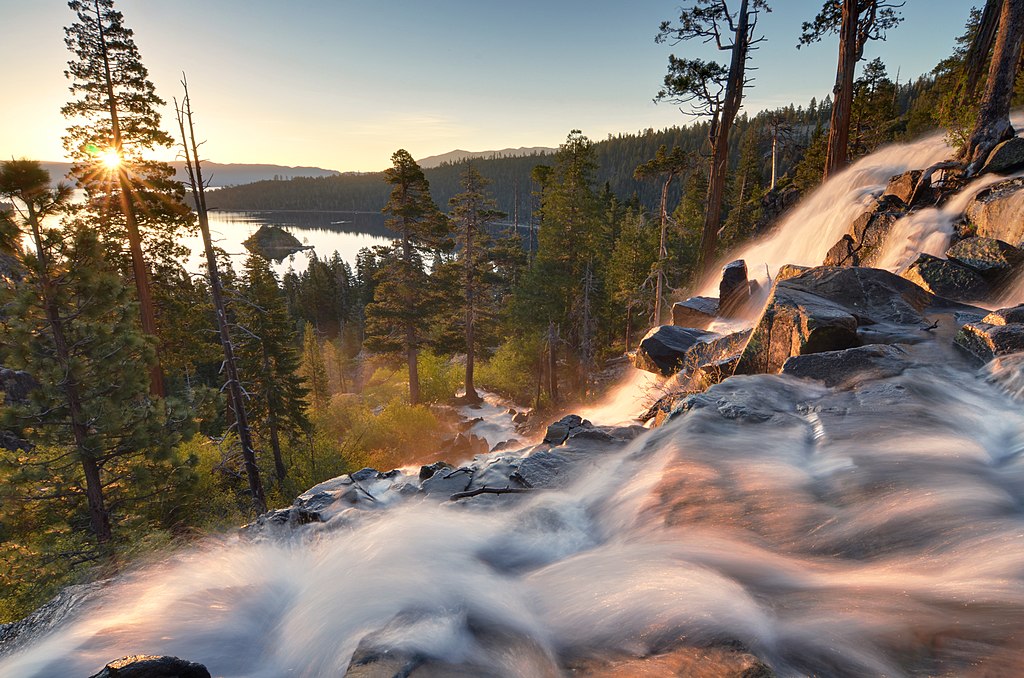 Spring is hands down the best season for chasing waterfalls in the Lake Tahoe area. Because we've all done it—we've all mapped out a sick waterfall hike on a hot summer day, only to be met with a dried-up creek trickling down a rock face.
Thankfully, that won't be the case in springtime, when all of Lake Tahoe's rivers are maxed out with snow melt. Especially if you stick to lower elevations, a lot of hiking trails will already be free of snow or manageable at the very least.
Eagle Falls/Eagle Lake Trail
Not a local's secret by any means, this is one of the most popular beginner hikes in all of Lake Tahoe. For good reason, though, as the 2-mile out and back trail offers epic views of Emerald Bay State Park, a close-up of Eagle Falls and easy access to Eagle Lake.
It's well-loved for sure, which might be a hassle for the summer hiker, but you as a spring hiker have nothing to worry about. You'll be able to snag a parking spot, enjoy a crowd-free moment at the Emerald Bay lookout and soak in a quiet moment with all of that spectacular scenery.
Glen Alpine Falls
Less of a waterfall hike and more of a waterfall viewing, Glen Alpine Falls is a short but sweet show-stopper tucked directly behind Fallen Leaf Lake in South Lake Tahoe. Easy for the whole family to enjoy, you can park your car almost directly in front of the falls or trek a short distance from the parking lot.
If you want to hike around, you can follow the Glen Alpine Trail as far into Desolation Wilderness as your heart desires. But we'd recommend hopping onto one of the hiking trails around Fallen Leaf Lake for a mellow, flat cruise around one of our verrrry favorite places in Lake Tahoe.
Galena Falls
A 5-mile loop located above Incline Village in North Lake Tahoe, Galena Falls is one of the area's most-loved, beginner friendly hiking trails. The trail is mostly flat (read: kid-friendly!), with amazing views of Lake Tahoe starting at just half of a mile in.
Keep trekking until the end and you'll be rewarded with a 70-foot waterfall and peaceful picnic spot. Perfect for first time visitors or families that want to meander at a leisurely pace, this one promises great views without too intense of a commitment.
---
Looking for other great views? Here's some of the very best views around Lake Tahoe.
2. Score Some Slush With Spring Skiing
Does a soft and slushy groomer on a sunny spring day rival fresh powder? If you're asking us; oh yeah. It's a different type of fun for sure, but it is indeed fun.
A lot of people write off spring ski trips. It's already lush and green at lower elevations and it just doesn't feel like skiing weather. But visit the Lake Tahoe ski resorts mid-March or April and you'll get a much different story.
The ski resorts will stay open for varying lengths depending on the season's conditions. Tons of snow? We've seen 4th of July skiing at Palisades Tahoe (formerly known as Squaw Valley). But often, you see Heavenly Ski Resort or Northstar California Resort closing at the end of April. Check their sites for updated dates.
Otherwise, wear sunscreen, plan your day around the afternoon sun and don't forget to stop mid-mountain for a nice, cold beer. Maybe pack an aloha shirt in with the ski clothes and don't forget to aprés.
3. Hit High Elevation Snowshoe Treks
There's still snow. It might not be pretty, it might not be fluffy, but it's there we promise. As long as it's spring in Lake Tahoe, there's still snow. You just gotta go up to find it.
Chickadee Ridge
One of our favorite north Lake Tahoe hidden gems holds the key to an epic spring snowshoe session. Tucked above Incline Village off of the Mount Rose Highway is Chickadee Ridge, a 2-mile out and back trail with a little surprise at the end.
Like most of the top hikes in Lake Tahoe, there's amazing views of the whole lake and a surplus of natural beauty. But, like its namesake suggests, this one has a special relationship with the local chickadees.
While we won't dive into the ethics of it, the mountain chickadees here are "trained" if you will to greet visitors. They'll flutter right up to your open palm, hoping to find some bird seed to snack on. It's pretty special and an easy, family-friendly adventure on top of that.
Kirkwood Cross Country & Snowshoe Center
Heading southwest of South Lake Tahoe is Kirkwood Ski Resort, home to a Cross Country & Snowshoe Center with 15km of groomed trails. They offer rentals and lessons, plus the easiest, safest version of cross country skiing and snowshoeing available in the Lake Tahoe area.
All the hard work is done for you—mapping out the route, finding the right gear—so all you have to do is show up and enjoy it. Plus, as spring approaches and snow becomes scarce, it's always nice to have an easy, maintained option.
4. Welcome Spring At An Outdoor Event
As the temperatures warm up and Lake Tahoe starts its spring transformation, there seems one thing on everyone's mind: getting outdoors. From north Lake Tahoe to South Lake Tahoe, the calendar starts to fill up with fun outdoor events.
2023 dates: March 31 – April 2 | Palisades Tahoe (Formerly Squaw Valley) | Olympic Valley, CA.
Okay, okay it has winter in the name. But it's still technically springtime per the calendar dates. Hosted at Palisades Tahoe (formerly known as Squaw Valley) the three-day bluegrass festival known as WinterWonderGrass is the a prized north Lake Tahoe event.
Bundle up for three full days of live music, good vibes and local food and beer vendors. As a pass holder, you have access discounted lift tickets to fill in time between sets with the slushy slopes. Plus, the event is community and sustainability minded, meaning it's a feel-good, do-good event in every sense.
2023 date: Saturday, June 10 | 1:00-5:00 pm | The Heavenly Village | South Lake Tahoe
For all of your 21 & older folks, this is a fun one. At the base of the Heavenly Ski Resort in the bustling village below is the annual Spring Brewfest. A one-day event complete with live entertainment and a corn hole tournament, it's the place to sample local beers, spirits and kombucha.
It's free to attend—dogs and kids are welcome—but it'll take a 21+ wristband to join in the festivities. Grab one to score a commemorative tasting glass and unlimited tastings from all the sweet vendors.
Between tastings, pop into nearby art galleries, grab a scoop of ice cream or top if all off with a scenic ride on the Heavenly Gondola.
5. Take To The Lake On A Kayak Or SUP Tour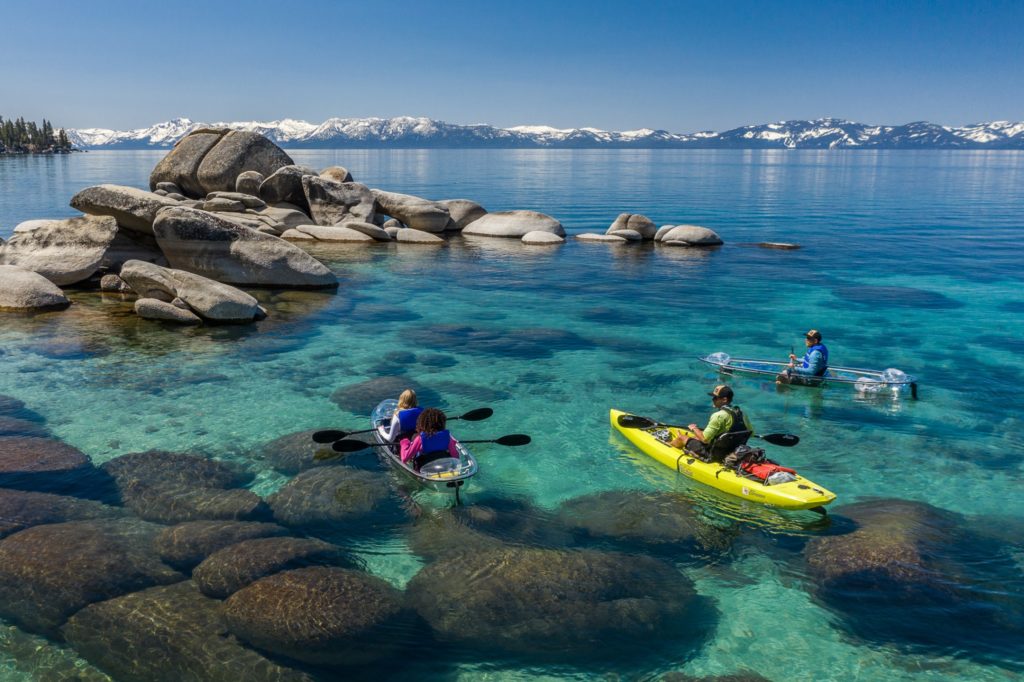 You might not want to dive in just yet, but booking a kayak or stand up paddle boarding session is a one of the best ways to experience Lake Tahoe in the spring. The lake will be calm and glassy, as it tends to be in the cooler months, making it the dream conditions for an afternoon paddle.
There's quite a few places around the lake that offer kayak tours, but not all of them work in all seasons. Clearly Tahoe not only offers year-round tours but is one of the most popular options, known their epic clear bottom kayak and stand up paddleboard tours.
They offer options departing from both South Lake Tahoe and north Lake Tahoe. Cruise around iconic sites like Emerald Bay State Park and Sand Harbor State Park, scoring the best views the lake has to offer.
6. Savor The Best Mountain Biking Conditions
Whether you're a mountain bike pro or just getting started, now's the time to hit some of Lake Tahoe's many amazing mountain biking trails. Dirt trails just flow better when they're a little sticky. By the end of the summer, dry, dusty routes can be a pain. So, now's the time to get the bike out of storage and hit the trails.
By the way—shoutout to Localfreshies.com for making a sweet trail guide that you should definitely go check out if you're interested in mountain biking in Lake Tahoe.
Tahoe Mountain | South Lake Tahoe
Length: 7 1/2 miles
Difficulty: Beginner/Intermediate
A beginner-to-intermediate friendly trail that leads to peek-through views of Lake Tahoe, Tahoe Mountain is usually one of the first trails to dry out in the spring. After a quick battle uphill, you'll be greeted with views that make it worth it, and the option to either out-and-back, loop around or keep heading up the ridge.
Plus, you'll be right next to South Lake Brewing (one of our favorite South Lake Tahoe pitstops) at the end. Connect to the paved bike paths below for a post-ride pint.
Corral & Sidewinder | South Lake Tahoe
Length: 2 1/2 miles
Difficulty: Intermediate/Expert
For anyone with even a little confidence on a mountain bike, we always suggest the Corral Trail. Packed with diverse features, from rock gardens to swooping jumps, it's the perfect balance of skill and fun.
The climb up will be grueling, but it's along a paved fire road where the only thing to navigate are shuttling Toyotas full of mountain bikes. (Wait, you weren't planning to shuttle were you?!)
Once at the top, descend down Corral or veer off for the more user-friendly Sidewinder. Both end up at the same location—the lower half of the track which features a packed dirt trail with flowy turns and jumps.
Unfortunately, the top half was blazed over by the 2021 Caldor Fire. TAMBA brought the trail, one of Lake Tahoe's all-time favorites, back to life but the scarred trees and landscape is still a little jarring.
Emigrant Trail | North Lake Tahoe
Length: 17 1/2 miles
Difficulty: Beginner
For a swoopy, rolling two-wheeled adventure, head to the Emigrant Trail just outside of Truckee. A mild, beginner-friendly route, Emigrant Trail features all the best natural beauty the Sierra has to offer from wildflowers to lake fronts.
Wind along the mild route for a taste of Lake Tahoe's best scenery with a dose of solid exercise. There's nothing technical about this trail, which makes it the perfect destination for anyone who's just starting out in their mountain biking journey.
Flume Trail | North Lake Tahoe
Length: 14 miles (one way)
Difficulty: Intermediate
You'll need to keep an eye on the conditions for this one, but once it thaws out… well, it's simply the best. Home to some of the best views of Lake Tahoe in the entire basin (yes, we mean that) the Flume Trail is a special place that feeds body, mind and soul.
As with all things, the best part of the trail doesn't come easy. You'll have to conquer a tough incline before things level out and you can eat your fill of flawless views of Lake Tahoe. Don't get too distracted though, as there's more than a few granite drop-offs and narrow passages that require a cautious rider.
Located on north Lake Tahoe's Nevada side, you'll need to prepare for the one-way route with a shuttle between the start and end points. The extra effort is worth it. Of all the trails in the Lake Tahoe area, this one might be the most iconic.
7. Embark On A Scenic Cruise Through Emerald Bay
Look, we love the happy hours, the ski resorts, the restaurants and hikes, but when it comes to Lake Tahoe, it's all about the lake. In the summer, that's an easy sell. In winter or spring?
Thankfully, our friends at the M.S. Dixie and Tahoe Gal are doing their part to get you out on the lake even when the temperatures are low. Both companies offer year-round scenic Emerald Bay cruises, with sunset happy hour and daytime cruises.
Ranging from 1-3 hours, select a cruise that fits your schedule, then head out for the ultimate Tahoe experience. Hang in the heated cabins, get some fresh air on the upper deck or sip a glass of wine from the in-cabin bar.
Depart from Tahoe City on the north shore with Tahoe Gal, or Zephyr Cove on the south shore with the M.S. Dixie. Either way, the slow cruise along Emerald Bay's iconic Fannette Island is simply one of those Lake Tahoe things that you just can't miss.
8. Hang In The Ski Resort Villages
Rain or shine, spring or fall, we always love soaking up the energy in the ski resort villages. Recreation epicenters focused on all-ages entertainment, come for good eats and happy hours, a spin around the ice skating rink or a scenic gondola ride.
In north Lake Tahoe, visit the village at Northstar or Palisades Tahoe (formerly Squaw Valley). In South Lake Tahoe, make time for the village at the base of Heavenly Resort. Each offer year-round live music, tasty restaurants, souvenir shops and beyond.
---
If we haven't convinced you yet to give spring in Lake Tahoe a chance, it's time for our hail mary. Spring is the shoulder season in Tahoe. Meaning less crowds, lower hotel prices and fewer lines outside of restaurants and ski resorts.
It's quiet, calm and a little taste of what locals love best about life in the Sierra Nevadas. The weather can be hit or miss—some days it's winter, some days it's summer-like. But the things that make Lake Tahoe your favorite destination are always here.
Just, you know, don't tell all of your friends how good it is in spring.