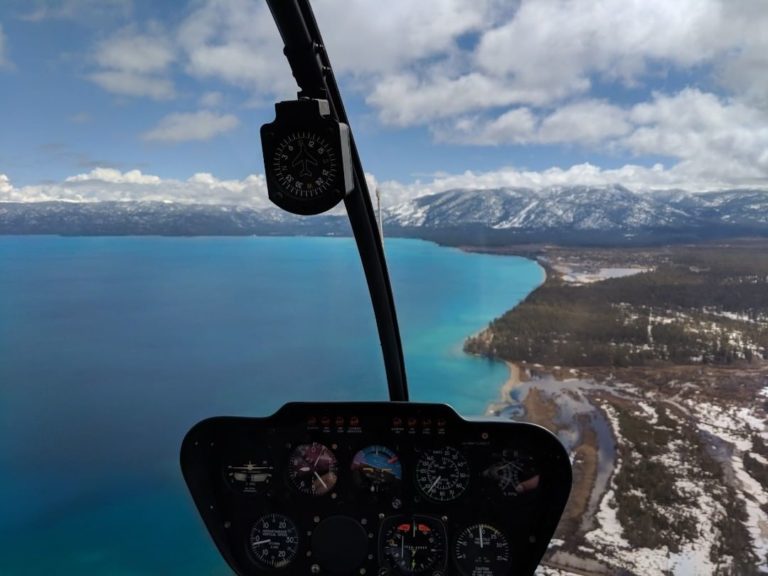 I think we can all agree: an epic view makes everything better. Long hike? Better with a view. Happy hour? Better with a view. Skiing? Yeah, that too. No place is this more true than in Lake Tahoe, where almost every activity can be paired with killer views of those clear, blue waters.
With 72 miles of shoreline and the Sierra Nevadas circling every inch of it, it's not hard to catch a view of the lake. But to get a great view of the lake—a breath stealing, soul stirring, tear inducing, existential crisis provoking view—well, you'll have to keep reading to find one of those.
The Best Viewpoints On A Drive Around Lake Tahoe
One of the best (and laziest, erhm, easiest) ways to enjoy the lake is with a leisurely drive. The loop takes about 3-hours, but you'll be able to check out any or all of Lake Tahoe's funky towns and iconic sites.
Almost all of the places we mention here have fun hikes nearby that can you get even better views, but for now, we're focused on those pop-out-at-the-parking-lot type of moments.
Emerald Bay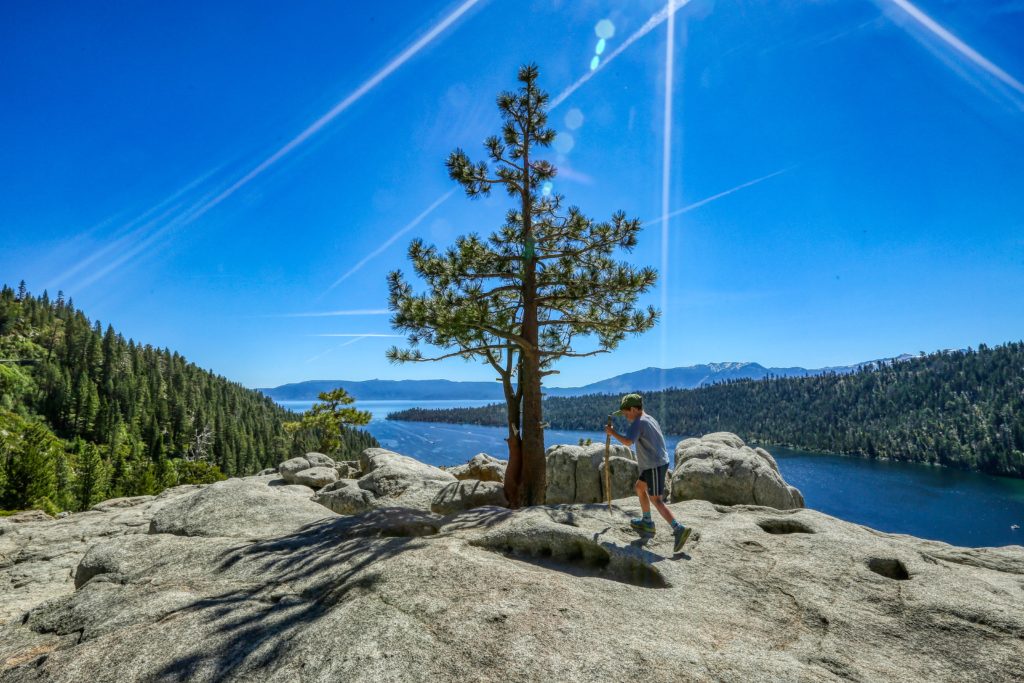 Starting from South Lake Tahoe and heading northwest, the first stop on your drive around Lake Tahoe should be Emerald Bay. One of the most loved locations around the lake, Emerald Bay State Park gets its ridiculously good looks from ancient glacial activity. The charming Fannette Island, with its 1920's tea house marks the center of it, and the epic Vikingsholm Castle sits regally on the lakefront.
There's a few parking lots here—Inspiration Point, the Eagle Falls trailhead and at the entrance to Emerald Bay State park.
(There's also a lot of cars that park haphazardly along the highway blocking traffic and creating dangerous road conditions. Guys, don't do that. It's so dangerous and creates awful traffic delays.)
You'll get the best views from the Emerald Bay State Park parking lot (a $5 fee!), where the entire bay unfolds right at the edge of the lot.
Emerald Bay gets so insanely busy on the weekends that locals avoid that stretch of highway like the plague. You will fare much better if you can visit on the weekdays or even super early in the morning. Sunrise views, baby! But no matter when you visit, you must visit. It really is a special spot.
Sugar Pine Point State Park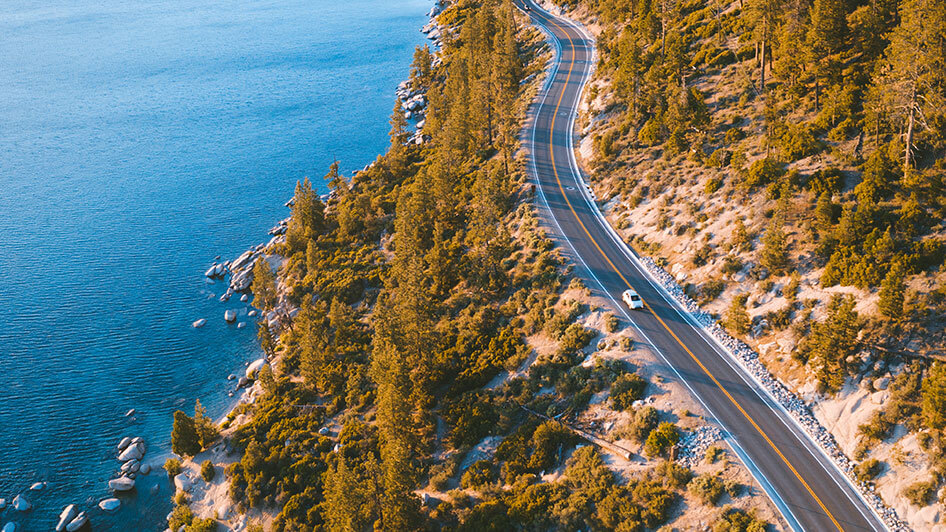 Although there's a small walk required with this one, we're adding Sugar Pine Point State Park to the list of driveable lake views because of its huge parking lot, picturesque pier and turquoise waters.
A west shore gem, Sugar Pine Point State Park offers easy parking and beach access, plus a nice little dose of local history thanks to the Hellman-Ehrman Mansion estate. Being a state park, there is a $10 fee to park there—but it is a nice spot to picnic, with plenty of walking trails and open lakefront.
Sugar Pine is just on the other side of D.L. Bliss State Park, making the two an easy package deal if you're looking another place to visit around Lake Tahoe.
Hot tip: For $75, you can purchase an annual Tahoe Regional parking pass online. The pass is valid for five of Lake Tahoe's state parks: D.L. Bliss, Ed Z'Berg Sugar Pine Point, Emerald Bay, Kings Beach and Donner Memorial. This pass basically pays for itself if you plan on visiting each of these state parks once, and if you plan on returning to any of them another day, it's a great investment.
Sand Harbor
We'll call it: this is the most important stop on your drive around the lake. We're convinced that Nevada's Sand Harbor State Park is home to the best view around Lake Tahoe. It's like Indonesia meets alpine lake meets heaven on earth. There's massive boulders dotting the shoreline, crystal clear water and tons of nooks and crannies to explore.
As of April 1, 2021, out-of-state vehicles will have to pay $15 to enter. (Nevada registered vehicles slide in at $10.) Much like in CA, you have the option to purchase an annual pass which gains you entry to all of the Nevada state parks for just $75.
Although Sand Harbor is open (and gorgeous!) year-round, the summer months are just bonkers. Arrive early for weekend play—seriously, like 7am–or just make other plans. The parking lot fills up fast.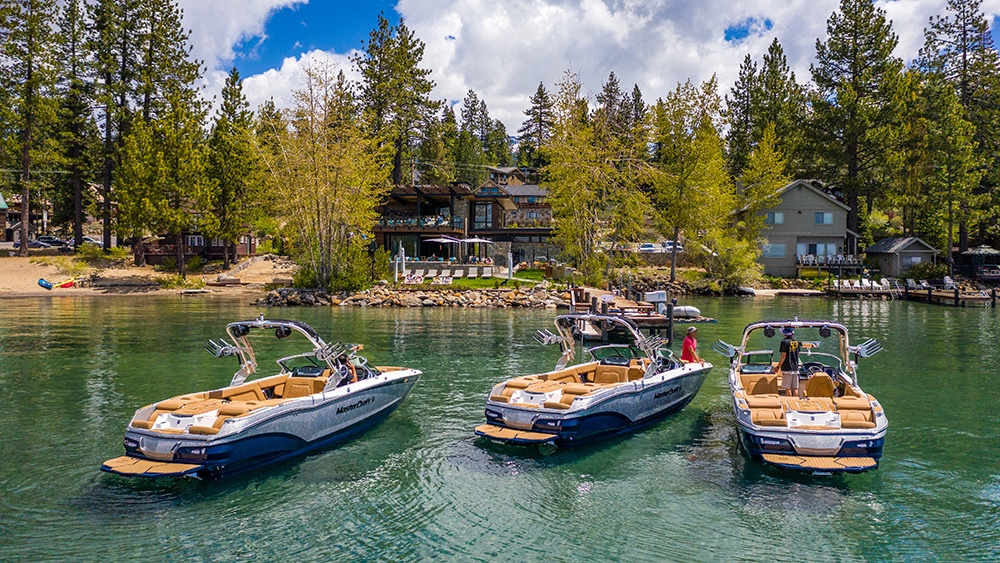 Book activities with our local partners!
From captained boat charters to snowmobile tours, browse through epic tours & activities around Lake Tahoe offered by our trusted, local partners.
Get A Bird's Eye View Of The Lake
You can hike it, you can drive it, you can sit on the shoreline and enjoy it. You really will be happy no matter what you do. But you will be happier if you see the lake from above. It's the view of the gods (literally), plus no lake view compares to the sight of the entire basin with its snow-capped mountain peaks and hidden alpine lakes.
Take a helicopter tour over Lake Tahoe
While a helicopter ride over Lake Tahoe seems like something reserved for an episode of Keeping Up With The Kardashians, Tahoe Helicopters makes sure that it's right at your fingertips. You can take flight just 10 miles from the casinos for an unforgettable tour of Lake Tahoe and the mountains that surround it.
Air time works like dog years. A 15-minute ride feels like an hour of pure bliss—especially considering that it's enough time to fly over the famed Emerald Bay, Fallen Leaf Lake and get a peek at the south shore beaches and slopes at Heavenly Ski Resort.
If you opt for a thirty minute tour, you get to see everything. Sand Harbor sans crowds? Insane. You can also steal a peek at some of the lake's most difficult to access beaches and best kept secrets. Places like the aptly named Secret Cove, Skunk Harbor and all of the other viewpoints we cover in this article will unfold beneath your wings.
A helicopter tour is pricier than a hike to be sure, but with options for less than $100 per person, it's worth it. Plus, I don't want to be dramatic, I really don't; but the 15 minutes I spent in that helicopter were the best of my Tahoe days. I may have cried, but that's none of your business.
Bonus: If you're obsessed with Lake Tahoe's many shades of blue, a helicopter tour is absolutely the way to go. Seeing the color gradient and clarity from above is truly unique.
The Best Hikes For A Great View of Lake Tahoe
Alright, so maybe you already did your drive around Lake Tahoe or maybe you want to pepper a hike into the drive. Either way, we're very much into your decision to explore by foot, because the area's hiking trails are absolute gold mines when it comes to unreal views.
Rubicon Trail
We like everything about the Rubicon Trail. Wedged between the south shore and the west shore of Lake Tahoe, it runs from the iconic D.L. Bliss State Park around the edge of Emerald Bay to our all-time favorite viewpoints at Eagle Point Campground.
Although the trail is long (16 miles roundtrip), you can slice it up any way you'd like, scoring amazing photo-ops no matter which turnaround spot you choose. On the first half, from D.L. Bliss State Park towards Emerald Bay, there's hidden coves and pockets of turquoise water.
The second half offers peek-throughs of Fannette Island and a path right through the Vikingsholm castle grounds. If you make it all the way to Eagle Point Campground, you can sit at the edge of the world on our favorite bench in the basin.
We know the 16-mile price tag sounds crazy, but if you're interested in hiking in Lake Tahoe, this trail has a lot to offer no matter what portion of it you tackle!
Tahoe East Shore Trail
Nevada's newly renovated East Shore Trail is a 3-miles point-to-point (6-mile roundtrip), fully paved trail that runs from Incline Village on the north shore to the gorgeous; the stunning; the gotta-see-it Sand Harbor State Park.
It's been deemed "The Most Beautiful Bikeway in North America" and we don't wonder why. It's an unreal journey. The hike is both kid-friendly and dog-friendly, paved and mostly flat, with clean bathrooms and picnic areas along the route. Almost the entire path enjoys a backdrop of blue, and of course, you end up at one of the best beaches on the lake—Sand Harbor. (It'll be a $2 walk-in fee to enjoy it.)
Monkey Rock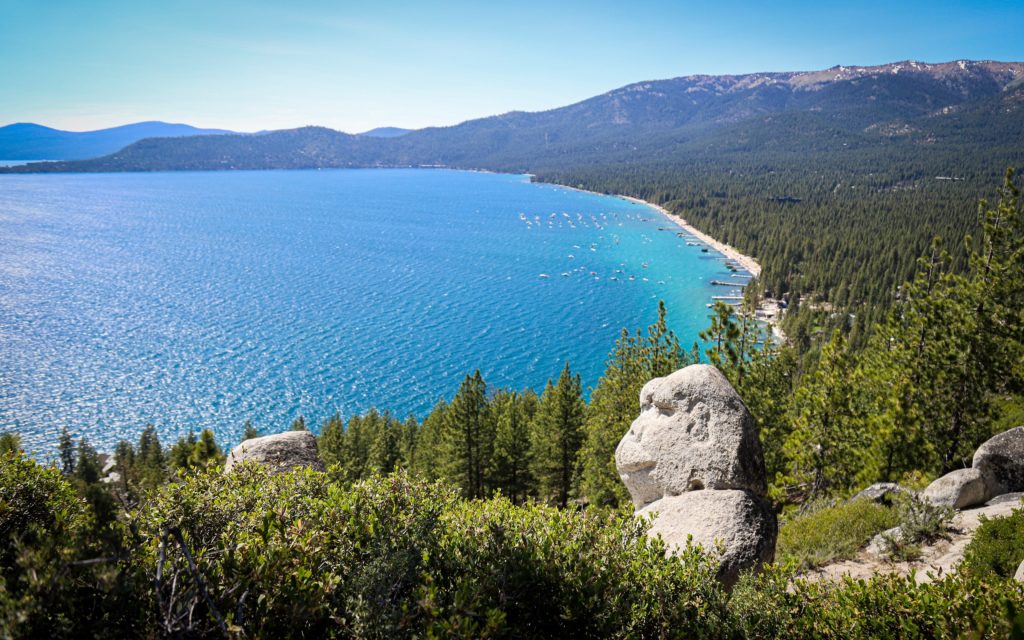 Like yeah, you can sit atop of a boulder while the lake sprawls beneath you, but guys, there's a rock that genuinely looks like a gorilla on this one! We know, we know, you're here for a glimpse of Lake Tahoe. And this 2.6-mile out-and-back trail will certainly get you what you're looking for.
But honestly the monkey rock is pretty cool and we think you'll like that too. Just outside of Incline Village, the trailhead to Monkey Rock leads through pine forests to a fun little boulder field, expansive lake views and yes, a rock that looks very much like a monkey. As for the hiking, there's a few moderate parts of the trail but it's easy for the most part.
Cave Rock
A quick scramble gets you big rewards on the Cave Rock hike. Located just past Zephyr Cove on the east side of the lake is Cave Rock; a traffic tunnel inside a massive rock with a fantastic viewpoint on top. The trail is less than a mile total, offering a quick and easy family photo-op on top of the rock.
If you're not super into hiking, this is a great option. It's really quick, particularly beautiful at sunset and easy to access from the road.
Catch A Ride On The Heavenly Gondola
It's no secret that Tahoe's ski resorts harbor some of the best views of the lake. We dare say that it's half the reason winter sports are so well-loved around Lake Tahoe. But it doesn't have to be a full blown winter wonderland around here for you to enjoy the view from the top.
The Heavenly Gondola
It's rare to find a ride that'll take you 2.4 miles up a mountain face, then drop you off to enjoy the view. But, the Heavenly Ski Resort gondola in South Lake Tahoe is happy to do that for you.
The epicness begins almost immediately upon entering the fully enclosed gondola. You'll climb high above the town, seeing South Lake's beaches and restaurants, hotels and shops shrink beneath you.
The 10-minute gondola ride takes you first to an observation deck, where you can exit the gondola and get your first taste of that high alpine air.
Hop back in the gondola for the final climb to Heavenly's Tamarack Lodge, sitting at 8,500 ft. above sea level. In the winter, this area will be flooded with skiers. In the summer, you can access incredible hiking trails and Heavenly's collection of kid-friendly things to do, like a mini rollercoaster and zip line.
The price of the Heavenly gondola is fairly high: $75 for adults, $60 for teens/seniors & $49 for children. (You could be in the helicopter for that price, just sayin'.) But, it's definitely nice that you can take your time roaming the Sierra Nevada once you're up there.
For some orientation: from the observation deck, Tahoe City and Squaw Valley ski resort will be straight ahead and slightly to your left, allll the way across the lake. Zephyr Cove will sit on your right, with Cave Rock visible at the shoreline in the distance.
Finally, all of South Lake Tahoe will sprawl out right beneath you, ending with the Tahoe Keys on the far left, plus local favorites like Pope Beach and of course, Emerald Bay.
Be aware—if you are visiting in the winter, the gondola occasionally closes to sightseers when it's a super busy day for skiers.
Take A Boat Ride Around Lake Tahoe
If you like looking at the lake, then you will adore being on the lake. It's one of the best ways to get a feel for exactly how massive (and majestic!) the lake really is. There's tons of places to rent boats around the lake, but taking a cruise is definitely the easiest, least stressful way to enjoy the water.
M.S. Dixie
Many of the Lake Tahoe cruises are seasonal, but Zephyr Cove Resort's M.S. Dixie happens to run year-round. This 500-passenger paddle wheeler runs everything from daytime cruises to elegant dinner events.
The Scenic Emerald Bay Cruise is a two-hour ride from Zephyr Cove to Emerald Bay, costing $69 for adults and $39 for children. You'll sail past all of South Lake Tahoe, getting an up-close look at Fannette Island and the Vikingsholm Castle in the bay. Another fun option is their dinner cruise, a classy date night event that includes a five-star meal aboard the boat.
Tahoe Gal
Another favorite in the world of Lake Tahoe cruises is the Tahoe Gal. Operating from early-spring to mid-fall, the Tahoe Gal departs from the north shore's Tahoe City. Their cruises run along the scenic west shore, with sights like Fanny Bridge and the start of the Truckee River, D.L. Bliss State Park, Meeks Bay and the Homewood Ski Resort all along the way.
The Tahoe Gal hosts a fun collection of cruises, ranging from a Brunch Cruise to a romantic Sunset Dinner Cruise, with prices starting at $38 per person for adults.
You can purchase cocktails onboard, and let us tell ya—the day you're sipping an Adult Kool Aid on Lake Tahoe's crystal waters is not one you'll soon forget.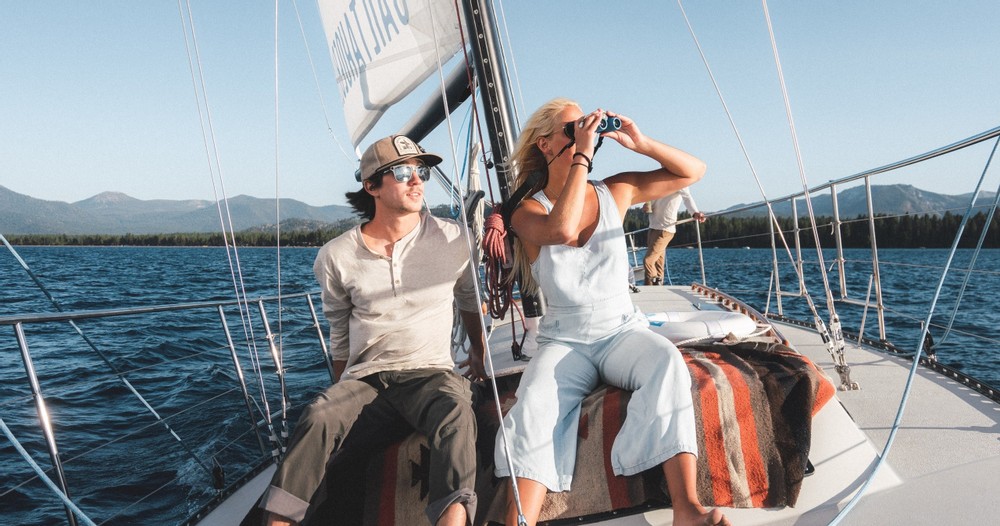 Book a Sunset Sail with Sail Tahoe Blue! Book a 2-hour sunset sail from South Lake Tahoe. Premium beer & wine included. Dates May – September.
Lake Tahoe: Best Views
So, at almost 2,500 words, the question remains: which view of Lake Tahoe is the best? We want you to tell us! By helicopter, boat, foot or car, take that drive around the lake and let us know which view stole your heart. In the meantime, here's a quick list—some we covered in detail and some we didn't—to check out:
Best Of The Best Around The Lake
Helicopter Tour
Sunset Cruise
South Lake Tahoe
Baldwin Beach
Mt. Tallac
Emerald Bay State Park
Eagle Point Overlook
Heavenly Gondola
West Shore of Lake Tahoe
Eagle Rock
D.L. Bliss State Park
Sugar Pine Point State Park
Rubicon Trail
North Lake Tahoe
Kings Beach State Recreation Area
Fanny Bridge
Stateline Fire Lookout
East Shore & Zephyr Cove
Cave Rock
Skunk Harbor
Secret Cove
Sand Harbor State Park
Flume Trail
Tahoe East Shore Trail
---
Final, Final
While there's a lot to digest on this list, there's one ultimate truth that you can live and die by: every view of Lake Tahoe is a good view. We can actually promise that. So don't worry too much about picking the exact right one.
Besides, if we're all doing our part (hint, hint: don't litter, don't start fires, don't pollute the lake, support local organizations) those picture-perfect spots should be here for a long time to come.
Bonus: Check out our list of of South Lake Tahoe restaurants on the lake to combine your search for the perfect view with a bomb bite to eat or happy hour. There's truly one for every budget, and it's a great addition to any trip.