South Lake Tahoe Restaurants With A View
We've done our research. A meal's shortest path from mediocre to magnificent is a bangin' view. Taste, yes, you're very important. Service, we're looking for you too. But these South Lake Tahoe restaurants with a view will have you swooning before the appetizer order is in. Whether you're looking for white tablecloths or burgers on the beach, we're absolutely sure of one thing—lake views make the perfect pairing for any dish.
Fine Dining Restaurants With A View
Nothing says special occasion like a bottle of Cab in fine stemware, a perfectly marbled ribeye and a cotton candy sunset over the lake. You'll find all of the above and more at South Tahoe's corps d'elite of waterfront dining. (And yes, simply being in Lake Tahoe counts as a special occasion. We say so.)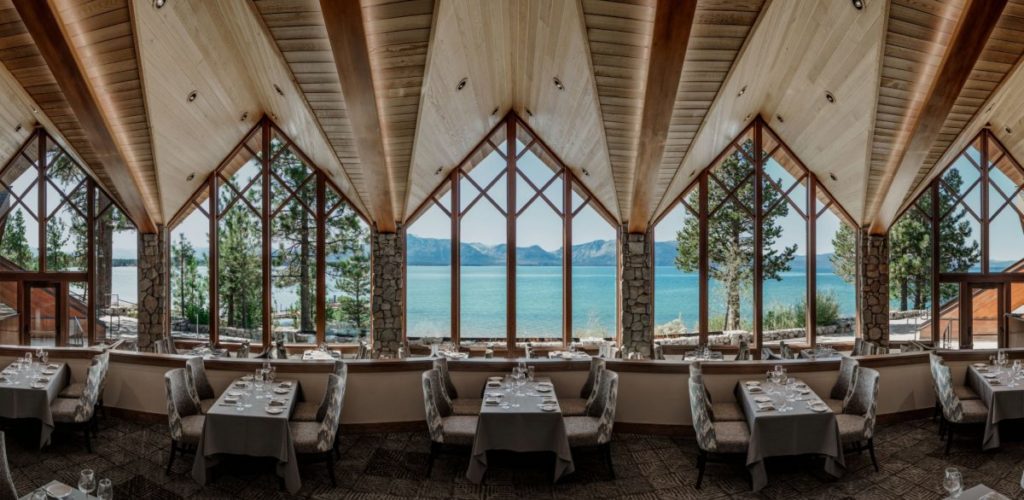 Mere minutes away from the bustle of the Stateline casinos is the luxury oasis of Edgewood Tahoe. Home of the Lake Tahoe celebrity golf tournament, a palatial 5-star resort and not one, but three fantastic restaurants, pretty much everything about Edgewood is flawless.
This includes, of course, their eponymous and opulent dining room, the Edgewood Restaurant. Framed with floor-to-ceiling windows, the Edgewood Restaurant not only offers perfect views of Lake Tahoe, but a well curated wine list, elegant menu options and friendly service.
Bronzed Scallops with a red curry brandy sauce ($23)
Warm Asparagus & Wild Mushroom Salad with a pear vinaigrette ($14)
Aged Prime New York Steak with Yukon potatoes ($48)
Lobster Pappardelle with lemon infused pasta ($42)
If you're interested in visiting Edgewood but not quite ready to commit to the full fine-dining experience, try visiting The Bistro for upscale casual dining or Brook's Bar & Deck for casual pub fare and one of our favorite happy hours.
Just hit it big at Harrah's? Drop everything and sprint to the top floor. One of Lake Tahoe's most iconic fine-dining experiences awaits. An ode to the golden age of steakhouses, Friday's Station features classic service, white tablecloths, crumb scrapers (we love those things) and truly fabulous food.
And to think we haven't even gotten to the panoramic views of Lake Tahoe visible from just about every seat in the house.
Everything about Friday's Station is perfectly executed. For the vintners among us, the restaurant earned a Wine Spectator Excellence Award with a lifesize wall cellar and extensive wine list to prove it. Pair the wine of your choice with a craveable menu with steak and seafood favorites, and a perfect night is all but guaranteed.
Blackened Tiger Prawns with pineapple rum butter sauce ($21)
Snoopy Salad with shrimp, crab and avocado ($17)
Seafood Broil with lobster, king crab and scallops ($75)
Peppercorn Crusted Bone-In Rib-Eye ($55)
Friday's Station is famous for their Snoopy Salad. An elevated take on a Crab Louie, it makes an excellent starter for a decadent meal. Share it or it'll fill you up on its own!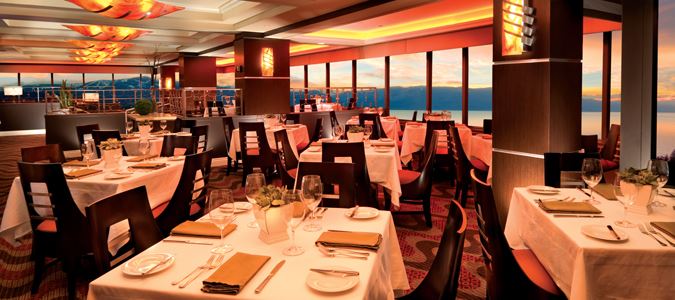 Having recently moved from its casino-floor location, the Sage Room is newly minted as one of South Lake Tahoe's restaurants with a view. Fortunately for all of us, the old-school steakhouse experience is still as authentic as it ever was. Only now, its paired with panoramic views of the basin.
The Sage Room is another reigning king when it comes to South Lake Tahoe fine dining. A landmark restaurant established in 1947, the Sage Room is similar to the fine wine & aged beef on its menu—only getting better with age.
In addition to a perfectly curated menu of steakhouse classics, you'll find exciting additions like Caesar Salad and Bananas Foster prepared tableside. That's right. Tableside. Flaming bananas and expertly dressed salads prepared right in front of you.
Tableside Spinach Salad for Two with warm bacon dressing ($24)
Roasted Rack of Lamb with shallot mashed potatoes ($65)
Filet of Beef Wellington with duchess potato ($59)
Bananas Foster with tableside flambé ($22)
Yet perhaps what we love most about the Sage Room is that it is decadent without the luxury and classy without the formality. In other words, they focus on what's truly important (good freakin' food and always attentive service).
Although inconspicuously tucked away in The Landing hotel, Jimmy's is not to be underestimated as a staple in Lake Tahoe's fine-dining scene. The lakeside resort features upscale Californian cuisine, small plates and a dog-friendly patio from which to enjoy it all.
Indoors, the intimate dining room is the ideal space for anyone looking for a departure from the lively casinos. A gorgeous onyx bar sets the mood for pre-dinner cocktails or if you're lucky, a suggestion from the on-site sommelier.
Avocado Greek Salad with feta & fresh herbs ($14)
Charcuterie Board with artisan cheeses ($21)
Roasted Shrimp and Linguica with white cheddar polenta ($36)
Lamb Shank with grilled rapini ($46)
If not for its mediterranean-inspired menu, you'll love Jimmy's for the opportunity to sip ouzo cocktails by the fireplace. All with a view of the lake, of course.
Upscale Casual Restaurants With A View
Riva Grill is the beating heart of South Lake Tahoe's Ski Run Marina. Spacious and well-loved, the two-story restaurant features a bar area and outdoor patio all with amazing views of the lake. Like its sister restaurant on the north shore, Riva Grill sports a decór that nods to the days when vintage wooden boats ruled the lake.
Help them salute the good ol' days with a Wet Woody—an intoxicating frozen drink with some very cheeky menu descriptions. There always seems to be something fun happening at Riva, from happy hours and aprés ski to live music and special events.
Shrimp & Lobster Bisque with bay shrimp ($13)
Filet BBQ Bacon Burger with onion rings and bbq sauce ($22)
Chef's Choice of Hawaiian fresh seafood (Market Price)
18 oz. Ribeye with rum peppercorn demi ($45)
Of course, it takes no special occasion to have a great night at Riva Grill. With an enticing menu of seafood and steak mains, it's a solid favorite when it comes to South Lake Tahoe restaurants with a view.
Casual Restaurants With A View
When a simple view isn't quite enough for you, head to Boathouse on the Pier. This casual bar and grill offers 360 degree views of Lake Tahoe from—you guessed it—a waterfront pier. There's truly not a bad seat in the house.
Perfect for sunset drinks or a relaxed meal with friends, they specialize in upscale bar food and shareable classics. Another major plus for Boathouse on the Pier is that their patio is dog-friendly. Just like the neighboring Beach Retreat and Lodge, which owns the restaurant, your pet is welcome to join in on the vacation festivities. (Looking for more pet-friendly hotels? Check out our guide!)
House salad with field greens and heirloom tomatoes ($12)
Baked Brie with crispy ciabatta ($19.50)
Wagyu Sliders with french fries ($22)
Beer Battered Fish & Chips with french fries ($20)
Note: While the on-the-lake real estate is a dream in the summer, it also requires that they adjust their hours to accommodate the winter weather. From October to May, you'll want to check in with the restaurant before adding it to your itinerary.
The Beacon feels like summer camp, all year long. Yes, even in the dead of winter there's no retiring the lazy lake days vibe of The Beacon. Between the private beach leading up to the outdoor patio, live music and their signature frozen cocktail, the Rum Runner, summer saturates every part of The Beacon. (And we don't mind it one bit.)
A part of the Camp Richardson compound, The Beacon is the meeting point for campers, vacationers, bike-trail pedalers, beach goers and beyond. It's a South Lake Tahoe classic and thus always bustling with a truly contagious energy.
New England Style Clam Chowder ($7)
Shrimp Louie Salad with Rum Runner dressing ($18)
Steak & Gorgonzola Alfredo with sun-dried tomatoes ($21)
Beacon Blissful Ribs with a jerk rub and island slaw ($32)
Tucked into a pine forest with sand right up to the door, The Beacon feels like a mountain escape should. In a magical collision of all things vacation it brings major forest, beach and restaurant vibes. What more could ya want?
With its open-air tiki bar and patio tables steps from the sand, The Lakeside Beach House just feels like vacation. The venue closes down for the winter months and brings back the tropical beach vibes beginning Memorial Day weekend.
A simple menu of easy favorites like burgers and fish'n'chips balances out the really fun stuff—beer, wine and a variety of adult slushies. The patio is dog and family-friendly so you can easily move between beach time and a lunch break without a problem. A daily happy hour, live music and a convenient location near the casinos makes this spot a must-visit during a South Lake Tahoe summer.
First Mate's Fish'n'Chips with tartar sauce ($17)
Shipwreck Chicken Tenders with french fries ($17)
Beach House Burger with jack or cheddar cheese ($15)
Sun Bum Salad with strawberries & mint ($13)
---
Even with so many great lakefront dining options, we're still a fan of the ol' baguette, salami log, six pack trio. While there's something to be said for white-cloth service or a foamy pint, there's also much to love about a sandy blanket—shoes and shirt not required.
In any case, have the camera ready. All of South Lake Tahoe's restaurants with a view (even the DIY ones) come with views you won't want to forget!