In Scandinavia, there's a saying—there's no bad weather, only bad clothes. To say we agree is an understatement. We've heard the "I'm not a cold weather person" arguments before and we won't stand for it.
Because a Lake Tahoe winter is freakin' sick. And yes, we're a little winter obsessed around here, but if you've experienced a Lake Tahoe winter then you're likely not surprised.
Lake Tahoe: A Year Round Paradise
Good news. Winter isn't just for skiers. (Although if you are looking for world class ski resorts, then you're in the right place for that too.)
It's for the fire pit chillers; the haven't-done-it-since-I-was-a-kid ice skaters; the adrenaline seeking snowmobilers—and the terrified-to-try-it snowmobilers too. It's après ski around a fire pit; a hot tub on a snowy night; a snowshoe trek through a silent meadow; a tree run on a bluebird day.
And sometimes, it's just about searching for the lost puzzle piece while the fire crackles in the cabin.
Point being, whether you think that you're into winter or not, everyone loves a snowy Lake Tahoe.
What's the weather like during winter in Lake Tahoe?
We like to think of Lake Tahoe as the San Diego of winter locales. There tends to be either an active storm or clear, blue skies and relatively warm temps (re: in the mid-40's). This isn't the rule, of course, but it happens pretty often.
And while we love storms—the more storms, the more snow, the more opportunity to do fun things—we can't help but love those bluebird days too.
Throughout December, January and February, average temperatures fall between 20°F-45°F. As we edge closer to spring, the cold weather gives way to warmer temps.
By the end of March and April, we typically start to see a blend of active storms and warm, 50°F+ days.
When does it snow in Lake Tahoe?
People that don't live in the snow tend to think of Lake Tahoe as a mystical, icicle land where snow falls every day from October to April. (We wish.) The truth is, Lake Tahoe winters tend to be pretty mild.
Typically, it snows in Lake Tahoe from the beginning of December until mid-March.
But Mother Nature is sassy. She likes to mix it up. She might sprinkle in a 'Miracle March,' where there's scant snow until March hits. Perhaps a 'Febru-buried'—thirty plus feet in a single month. Or maybe a smacking Thanksgiving storm. Every year is different, and you don't really know until you know.
Fun fact: it has snowed in Lake Tahoe in every year of the month.
What's the best time to go skiing in Lake Tahoe?
The Lake Tahoe ski season is totally dependent on the weather. Typically, resorts open around November and run through May. Although, we've seen people hit the slopes on July 4th. It all depends on the weather and changes year-over-year.
Even if the Lake Tahoe area doesn't see much snow in the fall, ski resorts can make their own snow to speed up opening dates. (Snow guns spray water in below freezing temps to create snow.)
But what you're really looking for is a good base layer of snow. That is, snow that covers the boulders, tree stumps, branches and other quirks of the mountain. Without it, you need to be extra careful of where you go, even on a groomer.
So the best time to ski? We'd be rich if we could know for sure. Seasoned skiers religiously watch the weather forecast and plan around fresh snow.
If you're just looking to get up on the mountain for the weekend, really any time will do. But January and February are typically the best times to plan a ski trip to Lake Tahoe.
What to do in Lake Tahoe in winter?
Sno-parks In The Sierra Nevada
We're gonna go ahead and claim the sno-parks as the single most underrated winter activity in Lake Tahoe. For $25, you can get a season permit that lasts from November 1 through May 30. The permit gets you access to 19 sno-parks in the Sierras, a handful of which are around the Lake Tahoe basin.
Sno-parks are basically parking lots. Parking lots in the mountains that give you direct access to the soft, powdery bliss of the backcountry. Want to take the kids sledding? Park at a sno-park, and hike to a hill. Snowshoe trailblazing? Sno-park. Snowmobile trails or winter camping? Yep, that too.
Visitors are always asking where's the best place in Lake Tahoe area for winter activities. Getting a sno-park season pass is without a doubt the best option. It's budget-friendly. It's meant for visitors that want to go sledding and snowmobiling. It's safe and maintained.
It's honestly the best.
Skiing & Snowboarding In Lake Tahoe
There are nearly 15 ski resorts in the basin and most of them offer amazing views of Lake Tahoe. Meaning—whether you know how to ski or not, you're bound to have a good day. (Hot tip: fake an injury and move straight ahead to the Bloody Marys in the lodge.)
For an incredibly brief intro to some of the most popular Lake Tahoe ski resorts:
Towering over South Lake Tahoe is Heavenly Mountain, the area's most popular ski resort. With long, swooping runs, expansive lake views and a hyper-central location, it's easy to understand why.
The ever popular Heavenly Gondola is a verifiable legend in the Lake Tahoe winter itinerary, and the Heavenly Village abounds with restaurants, live music and après ski options.
Apart from Heavenly, South Lake Tahoe is central to Kirkwood—a legendary mountain with deep and steep runs and Sierra-At-Tahoe, a mellow, independent mountain resort that's well loved by locals.
On the west shore is Homewood. Small but mighty, this spot is the chill to the max. Plus, it has some of the basin's most epic views of the lake.
Then, there's north Lake Tahoe, where you'll find world-class ski resorts like Palisades Tahoe (formerly known as Squaw Valley) and Alpine Meadows. Not far from there is the still great, but more humble neighbor of Northstar Ski Resort.
Towards Truckee, you'll find Sugar Bowl and Boreal Mountain. To the east, Diamond Peak—a major contender in the race for best views of the lake—and Mt. Rose.
If you need to rent skis, there's tons of local spots where you can rent for less than they'll cost at the ski resort. If you're skiing Heavenly Mountain in South Lake Tahoe, a few are even within walking distance of your ride up. (Powder House, we're looking at you.)
Snowshoeing During A Lake Tahoe Winter
Listen, skiing will always steal the show. But we've got a soft spot for snowshoeing. In fact, we'd call snowshoeing one of Lake Tahoe's best winter activities. You can still get snow in your pants, snap way too many photos and enjoy Lake Tahoe's epic winter landscape.
Most importantly, it truly takes no skill. It's just like taking a walk with big, bulky shoes.
You will, however, need a pair of snowshoes. There's plenty of places around town where you can rent a pair of snowshoes, then find a trail of your own—or you can book a tour for a curated trek with a guide.
You can snowshoe literally anywhere that there's snow. But an easy, scenic place to get started is Echo Lakes. Remember that sno-park permit? It'll come in handy now. Park at the Echo Lake sno-park, then follow the trailhead at the entrance of the parking lot. You can find an excellent guide to the area here.
Alternatively, check out the Tahoe Adventure Company for snowshoe tours. Located in Tahoe City, they offer snowshoe tours for all-levels. Join an experienced guide for an afternoon walk through the woods, or elevate the experience with a sunset or full moon trek.
---
Ready to book those ski or snowshoe rentals? Get 'er done:
Sledding In Lake Tahoe
Sledding. Yes. We don't care what age you are. The thrill of sliding over the snow like a glossy-bellied penguin isn't something that fades with time. Similar to snowshoeing, there's two routes when it comes to sledding hills around Lake Tahoe—pay-to-play or find your own.
If you opt to DIY the experience, be respectful. It is not cool to: park on the side of a busy road, launch down a sledding hill that dead ends in the street, leave behind lost mittens or broken sleds. What you should do is have fun, be safe and send your kid off the biggest jump you can find.
The real deal sledding hills require you to pay. Usually you can get an hourly or all-day pass that includes tube rentals and long, groomed runs that range from mild to rollercoaster-esque.
Here's a few of our favorites:
North Lake Tahoe. The sledding hill at Tahoe City's Granlibakken Resort makes for the perfect all-ages winter activity. For just $20 per day, or a $100 season pass, you'll have access to their massive, groomed sledding hill. The neighboring ski hill is a nice perk for kids and beginning skiers. For $40 a day (sledding hill included!), you can take advantage of the gentle slope for no-stress intro to skiing.
South Lake Tahoe. At the top of Echo Summit, you'll find Adventure Mountain, a verifiable winter wonderland sitting at 7,350 feet above sea level. Prices range from $40-$55—but that fee is collected per car rather than per person. Once you're there, there's sledding runs galore, but plenty of snowy pockets for snowball fights, snowmen or any other snowy day activities you might enjoy. This spot gets busy because it's one of Tahoe's best. You can bring your own sleds or rent, and there's a cafeteria for snacks and beverages.
Snowmobiling In Lake Tahoe
If snowmobiling sounds kind of gnarly to you, you're not entirely wrong. At the highest level, snowmobiling is an extreme sport. But for beginners navigating groomed trails with a guide, it's really simple and really fun.
You'll be glad you read this—dress as if you're going skiing for your snowmobile tour. Invest in a neck gaiter and some waterproof & windproof gear. This'll drastically improve your experience!
Outdoor Ice Skating During A Lake Tahoe Winter
Want your Lake Tahoe winter vacation to feel like a scene from a Hallmark movie? Get to an ice skating rink, stat.
In South Lake Tahoe, visit the ice skating rink at the base of Heavenly Mountain. Glide around the ice, then warm up with a hot cocoa at one of the dozen restaurants in the area.
In North Lake Tahoe, head to The Village at Northstar for a picturesque ice skating experience at the base of the ski resort. Ringed with cozy fire pits, it's the perfect place to to soak in a Lake Tahoe winter.
Aprés Ski Around Lake Tahoe
We'll let you in on a secret. You don't actually have to hit the slopes in order to spend the evening après-skiing. In mountain towns, après ski is a state of mind and there's no wrong way—or time—to do it.
So if a mid-mountain cocktail isn't in the cards for you, opt instead for one of these après spots down on flat land.
---
Honestly, this article is ending because my hand is cramping more than because I've ran out of things to cover. In fact, all of this barely scratches the surface on a Lake Tahoe winter. But, at the very least, it should get you started on what will surely be a trip to remember.
Just don't forget the insulated jacket.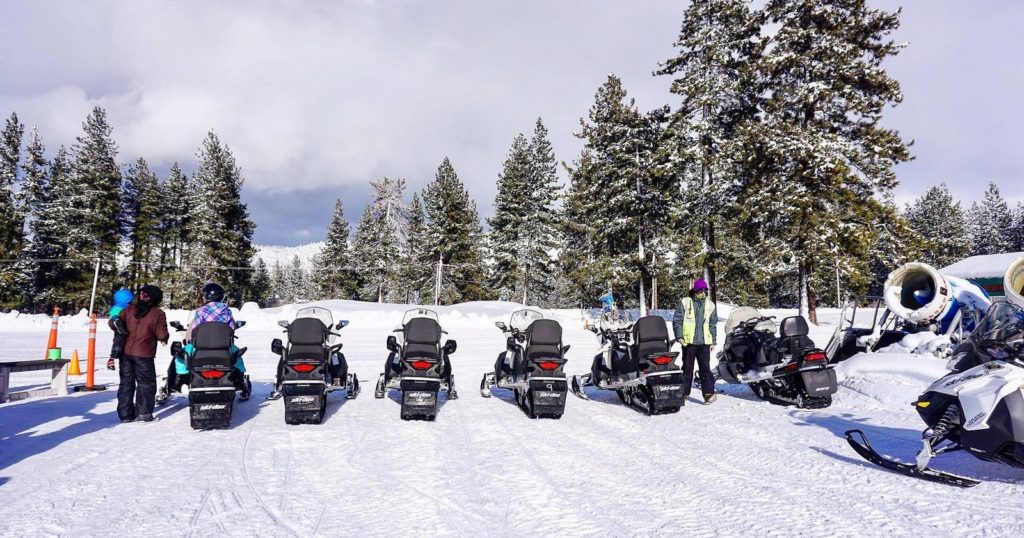 Book a 30-minute snowmobile ride with Tahoe Snowmobiles! A 5-minute walk from the Stateline casinos in South Lake Tahoe, their groomed track is the perfect place to get a taste of the action.