Mountains and snow, they go together like peanut butter and jelly.
But the mountains and summer—that's like peanut butter and a spoon.
Summer in Lake Tahoe is a pure, straight-from-the-jar kind of good time. Between the lake and trails, rivers and campgrounds, there's quite literally an endless amount of things to do in Lake Tahoe in summer.
If you've been browsing for summer activities then you're probably well-versed with the usual suspects; Emerald Bay State Park , D.L. Bliss State Park, Sand Harbor, the Rubicon Trail, even a Heavenly Mountain Gondola Ride. We love 'em all. But there's a lot more to love.
So, here are eight of our favorite things to do in Lake Tahoe in summer (that you haven't already read about one million times before).
The best beach toy? An inflatable, all-electric boat rental from Tahoe To Go Boat! Light & packable, it's the ultimate DIY adventure.
1. Raft the Truckee River
Armed with all the essential attributes of the dream Sierra Nevada mountains day, rafting down the Truckee River deserves a spot at the top of any Lake Tahoe summer activities list.
Are we certain of that? With five bliss-filled miles of cool, clear water dotted with hidden beaches and lively swimming holes, we've never been more certain of anything.
Although just a two-to-three hour river float, locals & rafting aficionados know how to turn this stretch of heaven into an all day event. (Hint: it involves plenty of pit stops at sandy wedges of shoreline and deep, dippable swimming holes.)
Bring beer for responsible drinking, pretzels for snacking and a waterproof speaker for blasting Steel Pulse at all moments in-between.
While you can DIY the float, we suggest booking with Truckee River Raft. They just make it easy. All details, apart from how many White Claws to pack, will be taken care of. Parking? Check. A shuttle to bring you up river? Got it. A secure, definitely-leak-proof raft and paddles. Yep.
There's even a lively restaurant with nachos and Rum Runners at the end of the float where you can reminisce on those surprise rapids where Johnny didn't quite paddle hard enough and you almost tipped. 
2. Fly, Foil or Glide Across Lake Tahoe
When it comes to Lake Tahoe in summer, boat rentals & cruises will always make the list. But there are about a thousand weird ways to explore the lake that you should have on your radar.
We're going deeper than jet skiing or paddle boarding—into the realm of parasailing, hot air balloon rides and e-foiling. Yes, friends, there's a whole list of things you can do while visiting Lake Tahoe that you never knew about.
In South Lake Tahoe, head to Lakeside Marina, next to the Stateline casinos for jet ski rentals and parasailing excursions. Or Ski Run Marina, for electric e-foil lessons and electric body board rentals.
In North Lake Tahoe, you can trade in your average water sports for a wakesurfing experience, or take a mellow cruise in a peddle boat.
Family-friendly and shorter on the time commitment, we gotta admit—we like our options.
Book a 1-hour e-foil rental or 30-minute electric body board rental with Tahoe Lake & Wake! Rentals available at Ski Run Marina in South Lake Tahoe—5 minutes from Stateline.
3. Paddle Around The Lake Tahoe Water Trail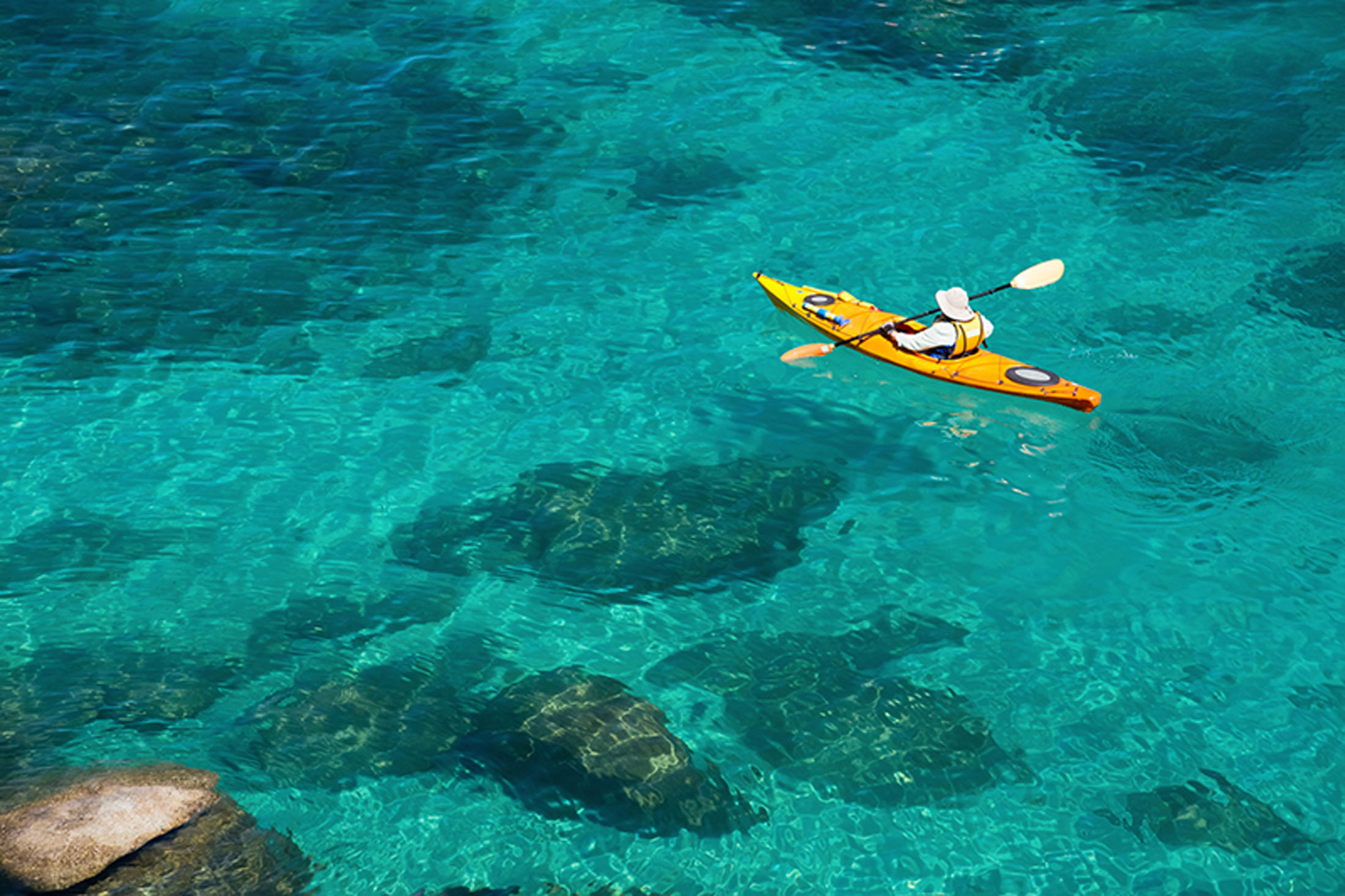 We can pretend that a Lake Tahoe summer vacation isn't all about the crystal blue waters of Lake Tahoe herself, but let's be honest. You gotta squeeze some lake time in in.
With so much to choose from—sailing cruises, boat rentals, kayak tours—the Lake Tahoe Water Trail deserves mention.
Because it's hands down the best resource for anyone looking for a DIY way to enjoy Lake Tahoe.
It is, definitively, the master guide to navigating the lake.
A goldmine of carefully mapped routes, the site features day trips & overnight trips, plus the launch sites and beaches, campgrounds and public restrooms that you'll find along the way.
Opt for a printable map or downloadable Google map, complete with mileage, places of interest and nearby amenities.
And then! There's tons of safety information—like weather forecasts and webcams, plus updates on wind patterns, and water temperature—that will help you plan ahead and stay safe.
In short, if your Lake Tahoe summer getaway includes paddling plans, it's worth taking a look.
4. Boat-in Camping at Emerald Bay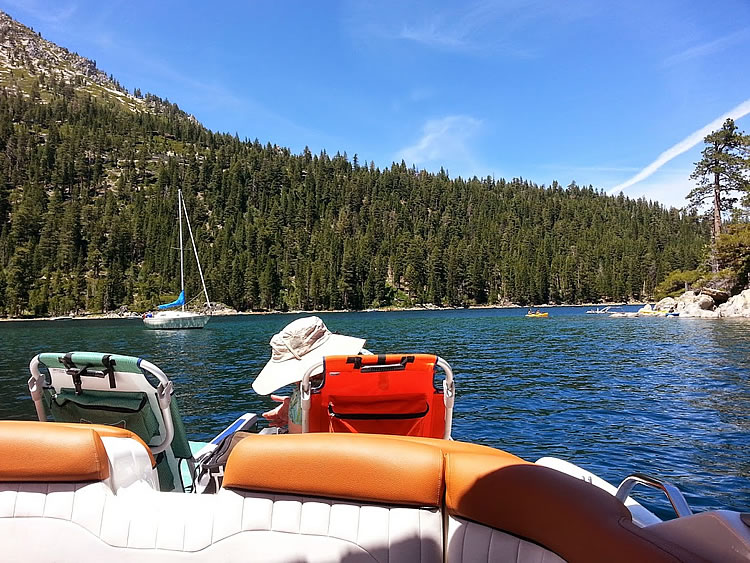 What's better than camping in Lake Tahoe in summer? Boat camping is the only thing better.
And boy, does Lake Tahoe have a good one for you. Tucked into a private corner of Emerald Bay State Park is our favorite boat-in campground. Complete with private beach sites, all the standard camping amenities, direct access to the Rubicon Trail and most importantly, sunrise views of Fannette Island, this one's a dream.
We know a boat in camp may sound a little challenging to get to, but it's not that bad. Because boat, in this case, actually means a personal flotation device. Stand up paddle boards, kayaks, canoes all apply.
If you don't have one of your own, you can opt for a multi-day rental from almost any of the usual suspects in town. Tie up to your campsite's private buoy, or carry your ship ashore. It's worth it for a quiet night in your own private corner of Lake Tahoe's stunning Emerald Bay.
Want all the details on this one? Check out our post on camping in Emerald Bay.
5. Go Cliff Jumping At Angora Lakes 
We. Love. Alpine. Lakes. And not just Lake Tahoe. The Lake Tahoe area is full of gorgeous, hikeable fresh, clear alpine lakes. And we love all 'em.
Small lakes, big lakes. Lakes with granite beaches, lakes with grassy shores. Lakes next to lakes and lakes next to streams. And while many of the best are hidden away in the depths of Desolation Wilderness, some are delightfully easy to access.
The Angora Lakes, for example.
Plainly hidden within the boundaries of South Lake Tahoe are Upper and Lower Angora Lakes. A brief drive to a small parking lot, then a ½ mile uphill (but paved!) hike leads you to two, small freshwater lakes. Trek past the first lake to the second, and you'll be rewarded with a snack shack (hi, ice cream) where you can rent SUPs, kayaks and paddle boats.
If you're feeling wild, join the bold and the brave in scaling the giant slabs of granite that frame the lake. At nearly sixty feet up you'll find one of the most popular cliff jumping sites in Lake Tahoe. Less daring platforms can be found all around the lake.
In any case, these lakes offer a taste of Lake Tahoe's backcountry without the long journey. We think you'll like 'em.
(Psst: Fallen Leaf Lake, Cascade Lake and Eagle Lake are some other easily accessible South Lake Tahoe alpine lakes to look into to.)
6. Hop On An Ale Trail  
All of that hypothetical cliff jumping has us craving a beer. And that's not just because, well, we pretty much are always craving a beer.
No, it is a fact of life that beer pairs well with adventure. A fact so accepted across the Lkae Tahoe basin, that there is a map for it.
Like a modern-day Magellan, follow the North Lake Tahoe Ale Trail to find golden pints of local beer paired with a nearby outdoor experience. It's the easiest way to make sure your day transitions seamlessly from hiking trails to draft beers, SUP routes to waterfront happy hours.
Beer lovers on in South Lake Tahoe will find a similar friend in the South Tahoe Beer Trail. You'll need to inject your own adventures in between brews, but the map is still a great resource for finding South Lake Tahoe's best breweries.
7. Dance It Out At A Free Summer Concert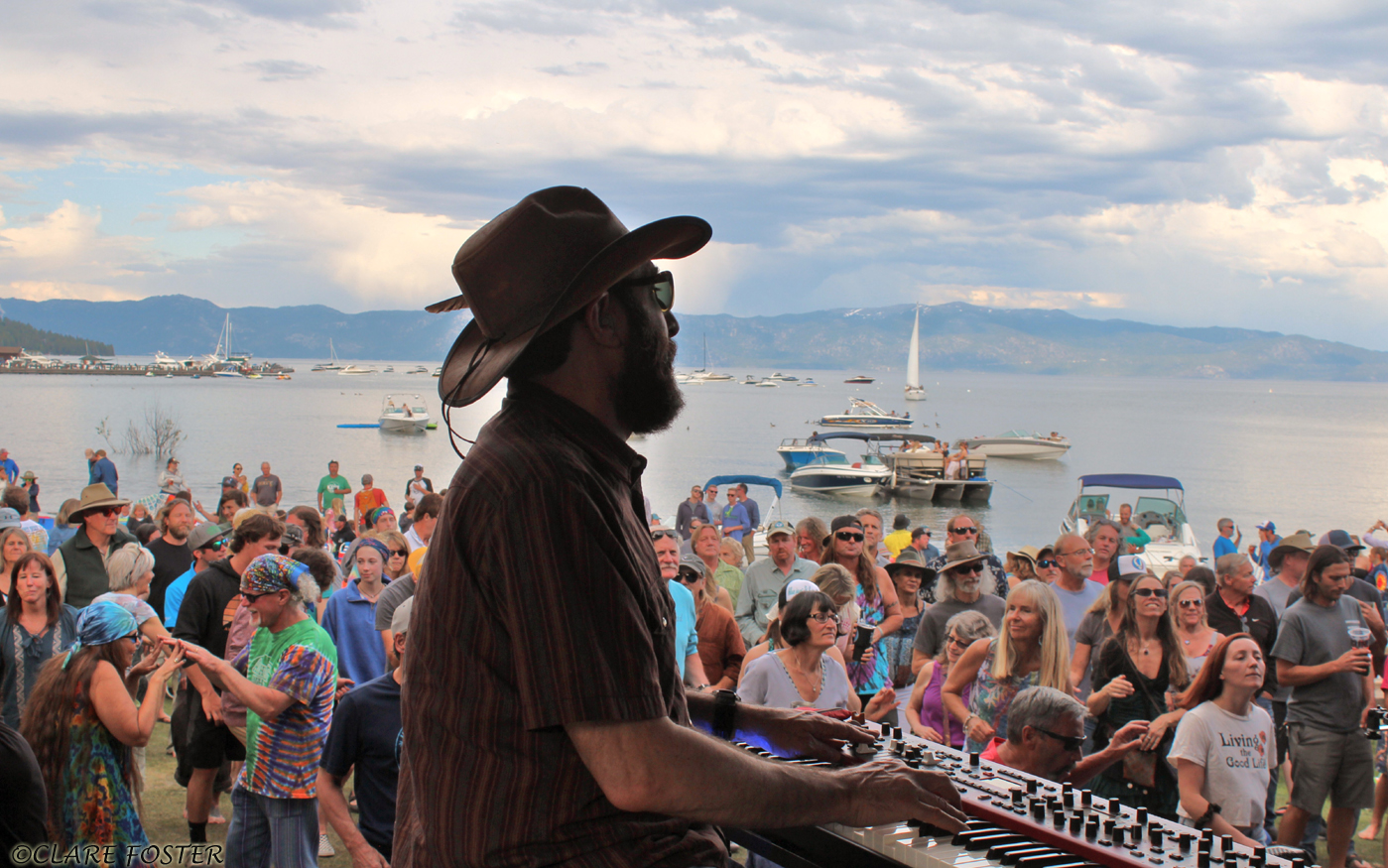 We love Kenny Chesney as much as the next person, but it's not those concerts we're talking about here. We're talking picnic blankets in lieu of printed tickets, iced-down coolers instead of overpriced beer.
Lake Tahoe is littered with free summer concerts—you just have to know where to look.
On a regular sans-COVID 19 year, there's free music almost every day of the week somewhere around the basin.
Humble community staples like…
Truckee River Regional Park
Commons Beach
Tahoe Paradise Park
Lakeview Commons
…all transform into venues for local talent.
Reggae concerts, rock shows & funky little bluegrass bands rotate through the weeks, showering a crowd of happy dogs, kids & neighbors in rhythm and blues. After the dry heat of a July day mellows out, there's really no better place to be. In fact, it's the epitome of summer in Lake Tahoe. Oh, and they're free.
(Yes, we love the Lake Tahoe summer concert series too. Kenny Chesney really is a legend.)
8. Follow The Bike Path To A Lake Tahoe Beach 
Biking is a pretty standard summer activity, but it's simply better in Lake Tahoe. Because instead of suburban streets, you can bike through the Tahoe National Forest, past gurgling streams and on towards sandy beaches.
Apart from epic mountain biking trails, there are flat, beginner-friendly bike trails to be found all around the Lake Tahoe area.
In South Lake Tahoe, a smooth, paved bike path runs from town, past Camp Richardson and on to the area's best beaches. In North Lake Tahoe, there's the iconic (and new!) East Shore Trail leading from Incline Village to Sand Harbor. Near Tahoe City, a gem of a trail follows the Truckee River out of town. On the West Shore, a leisurely bike path winds along the lakefront, connecting you to cafés, shops, beach and hiking trails.
Local bike shops are outfitted with every bike under the sun, plus maps, advice and even shuttle services. A few favorites to check out:
---
All of that, and we barely even scratched the surface of a Lake Tahoe summer. Looking for more ideas? Check out our take on the best hikes in Lake Tahoe, a few boat cruises we love or the ultimate camping guide around the basin.
There is so much that makes Lake Tahoe worth visiting. Don't forget to let us know what you choose!